Rockout your workout anytime, anywhere with your favorite cardio jam-sessions, on demand.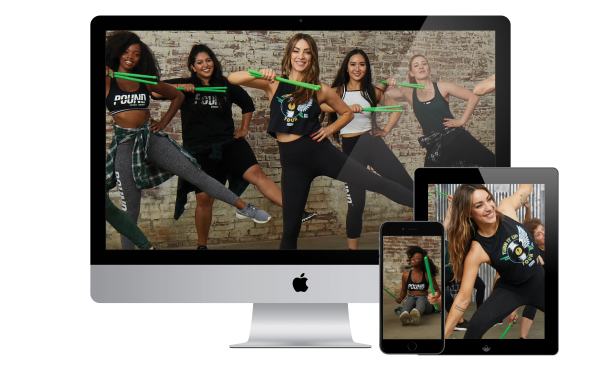 Join POUND Backstage and get unlimited access to your favorite workouts.
Sweat, sculpt and ROCK your body with a series of fun and effective POUND workouts that combine cardio, strength training and isometrics, all to loud kick-ass music. Surf 8 Channels of workouts including:
A complete POUND 101 how-to tutorial
Bassline, Topline, Tune-up and POUNDCore to target and tone specific areas of the body
Intervals + Quickies to mix it up
And Jam Sessions for the ultimate, full-body ROCKOUT WORKOUT!
..this is my therapy, my release, my one place that I feel I belong. My self esteem is increasing while anxiety is decreasing. I can be a rebel and it is ok. I'm growing and becoming stronger physically and mentally...
I have been trying for years to get into shape and lose weight and I only started seeing major results with POUND. I get lost in the music and actually enjoy working out, and the next day I'm so sore I know I did something right. The POUND community makes me feel like I'm surrounded by people that get me. It's really been a life changer for me.
14 DAYS FREE, THEN ONLY $9.99 A MONTH FOR UNLIMITED WORKOUTS
Channel your inner Rockstar with POUND–a full body cardio-jam session inspired by the infectious, energizing, and sweat-dripping fun of playing the drums.
Instead of listening to music, you become the music in this exhilarating full-body workout that combines cardio, conditioning, and strength training with yoga and pilates-inspired movements.