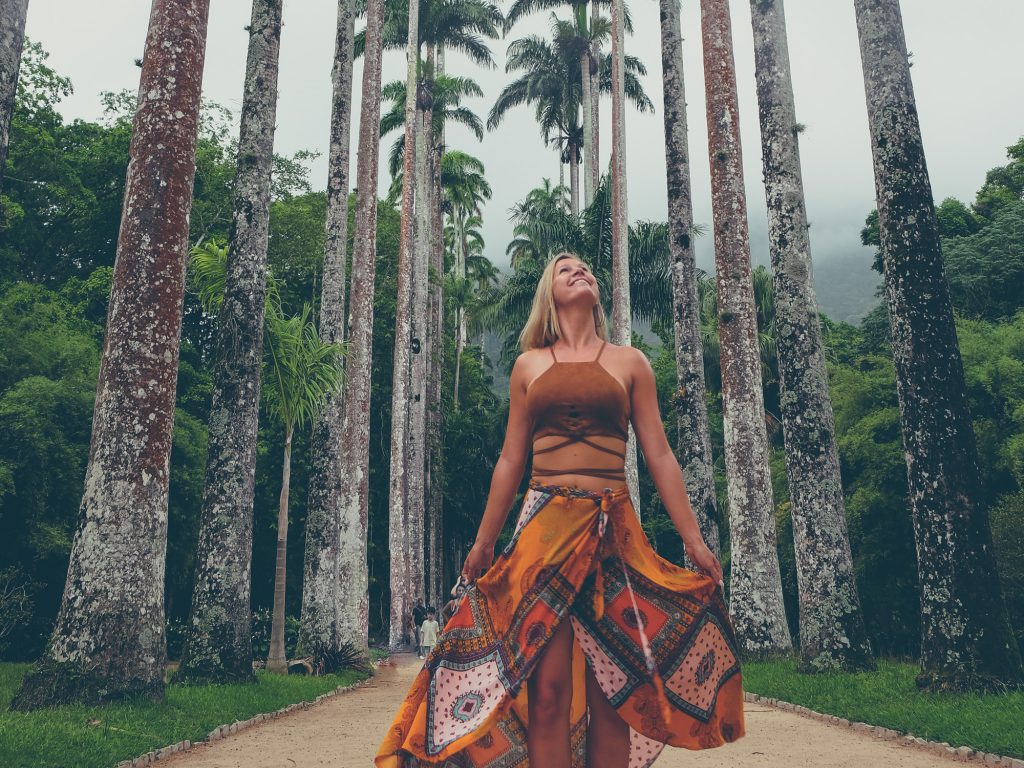 10 Aug

NOISEMAKER: Kiersten Rich aka The Blonde Abroad

We're inspired by fearless women who rebelliously lead their industries and strive to maintain a balanced, badass lifestyle. We call them NOISEMAKERS and they're rebelling against the norms. From time management tricks to favorite ways to decompress, we're digging in to the details that you WON'T read in their official bio -- and sharing them with you.

Meet the beautiful, fashionable, solo-travel expert, lifestyle blogger, Kiersten Rich aka The Blonde Abroad. She left her career in corporate finance to become a world traveler and has traveled to over 50 countries, knocking some big adventures off her bucket list! Kiersten is a rebel with wings -- she travels the world to introduce us to inspiring people, cultures, and ways of living, and shares her experiences with us through the lens of her minimalist philosophy and open mind. Her courage to chase her dreams inspires us and her community to set limitless goals and using every resource we have, strive to reach them. Get inspired by her strange encounters, the sights, smells, and sounds of new places, and the communities to whom we don't normally get a formal introduction.

When it comes to travel, we often struggle to find balance and maintain a healthy mindset. With POUND, we're constantly on and off planes, traveling to the next pin on the map. It's so easy to get swept up in the journey and INDULGE! But as you know, we strive for balance in every aspect of our lives. Following Kiersten's adventures introduces us to beautiful places, highlights the way locals live and thrive, and shares inspiring tips on how to best incorporate travel into your life -- but she also shares insights on choosing designations, packing tips, long term travel hacks and - you guessed it - staying balanced on the go!

1. To us, being a rebel means following your gut & your heart, even if its the path of MOST resistance. How has your inner rebel guided the decisions you've made growing your brand?
I guess my inner rebel is what made me take the plunge and travel. Like many people, I was taught to go to college, get a job, get married, have kids and live happily ever after. Not once did I consider that chasing the societal idea of "success" would lead me to an unfulfilling and unhappy life. After graduating with honors and getting a job at a prestigious financial firm in LA, I soon realized I was living someone else's dream… so I quit my job. Leaving your career to pursue a passion always requires some rebellion -- especially when you want to do something as unconventional as creating a travel brand.

After I started blogging full-time, I decided that I was going to do it my way. The content I create, the brands I work with, and the destinations I travel too are all a curation of what not only I like, but what my audience might be interested in. I think all my decisions, whether I knew what I was doing or not, have led me to the successful brand I have today.

2. You're no stranger to traveling OR balance: what advice can you give our community on being a balanced badass when you're outside the comfort of your routine?
I have to start out by saying, balance does not come easy, and I can't say that I'm balanced all the time. Being a full-time traveler while trying to run your own business (that relies on full-time travel) is hectic to say the least. But, over the last four years, I think I've gotten better at managing everything. My advice is to be realistic -- you have to be realistic about your goals and about the expectations you're creating for yourself.

3. What really makes you turn up the volume? On the road (or in the air!), and in life 🙂
Honestly, I'm a really creative person, so whenever I discover a new destination or get an exciting new project, that's when I 'turn up the volume' and get really inspired!




4. Who inspires you (your #noisemakers!) and best piece of advice?
I find inspiration daily from all sorts of unexpected places. However, I get super pumped when I come across female entrepreneurs breaking the mold and paving the way for other women- like Miki Agrawal. Never before has a generation had such an opportunity to create a creative businesses (thank you internet!) so my advice would be to identify what inspires you, find someone doing it (or "sort of" doing it) and learn from their experiences and failures.

5. Your 5 min rockstar breakfast & morning mantra:
Green smoothie and avocado toast with a poached egg! And of course, tea all day, every day. My morning mantra: Started from the bottom now we're here lol Stay humble. Grind daily.

6. You're leaving on an extended journey: 3 things you'd take & 3 things you'd leave behind
I would definitely take my dog, Kiwi, if I could, but I never leave for a trip without my camera, bikini or travel insurance (the practical in me sometimes comes out). I always have to make sacrifices when packing for a long term trip, but I'd leave behind high heels, most of my clothes and most of my makeup. I've found that it's way more fun to shop once I arrive in a destination that I'll be in for extended period of time! Only travel with the things you can't find where you're going.