Congratulations POUND posse! You did it! You completed Tour to Summer 2019 and did so in incredible fashion! With over 150 tour submissions, you all seriously TURNED IT UP! We loved reading about each of your experiences during the 30 days. The sweat, tears, laughs and connections you made with the humans around you inspired us immensely.

In the midst of all the greatness, there was one story in particular that stood out to us. A person, amongst many,  who fully embodied what it meant to TURN IT UP. We're excited to announce your 2019 Tour to Summer Winner (drumroll please)…
TRACY FRENCH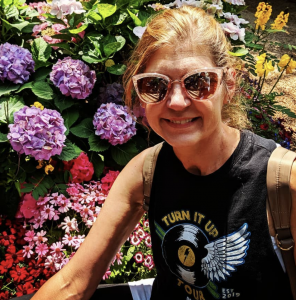 POUND enthusiast, mom, grandma, world traveler and inspiring badass, Tracy French is a woman we all need in our lives. As she opened her Tour to Summer application with,
"I Am Tracy French. I am who I am, and no longer afraid or ashamed to admit it."
,
we were instantly shaken to our core. She went on to express the change that happened in her journey throughout the 30 days, and how the positive energy she found in POUND Pros across the globe reinspired and reminded her of all the good that truly exists in the world. 
Tracy's story, just like many of ours, started back when she was just a kid. The image she had developed in her mind about who she was, was shaped by the bullying and projected insecurities that others pushed on her throughout her youth. Although she tried hard to push these negative thoughts aside, they kept surfacing and affecting her life, but this time in a worse form. Instead of the thoughts and words coming from others, they were now playing in her head and shaping her own core beliefs about herself.  A loving mother with a good career, she (like so many of us!) often struggled to feel inspired and find something to keep her motivated and positive. 
"I was depressed and defeated, then I discovered Tara Allen and POUND! With the first strike of those Ripstix I started breaking the chains I placed upon myself. Cooling down to "This is me" set me free! Then came the 30 day challenge…"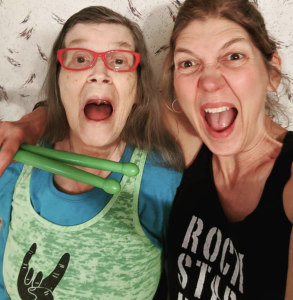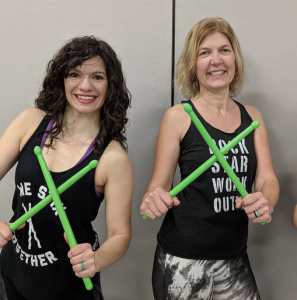 Tour came to Tracy at a time she felt she needed it most. She started turning
off
her negative thoughts and "turn it up" became her new motto. Even while on vacation Tracy didn't give up on her self improvement.
"Ripstix are portable, and I wasn't going to let a little vacation stop me,"
Tracy told us in her submission
.
  To TURN UP her workouts, she found a POUND class in Sicily and got to ROCK out with POUND ICON Magda Franceschino. To TURN UP her health, she tried new foods in Austria and learned she could enjoy eating healthy! Then upon returning home she TURNED UP her life by reaching out to her sons, daughters in law, 88 year old mom, and 7 year old grandson and inviting them all to a POUND class where they became even closer!
With each week she pushed herself further but there was one week in particular that stood out to her the most and that was TURN UP your MIND. She focused heavily on her mental health, taking action everyday to think positive thoughts, to build a supportive community around her and to ultimately ween off her depression meds (which she did!). 
"I have a passion for life now! Stronger, healthier and officially off my depression meds!"
Tracy's story is exactly what we hoped TURN IT UP tour would inspire to do, to TURN UP the person you were always meant to be. The best version of YOU. We are so thankful to have not only Tracy but thousands of rockstars within our community that push themselves each day to be better.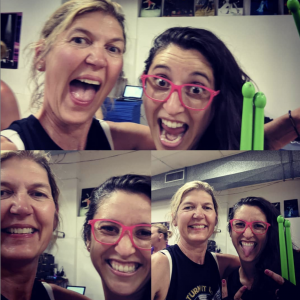 TURNING UP HEARING HEALTH!
We are ecstatic to announce that with your support throughout #TurnItUpTour, we were able to change the lives of THREE people in need!  In partnership with the national Hearing Aid Project, we donated over $1500, which funds three sets of hearing aids for people in need! 
For Eileen Bernstein of Baltimore, Maryland, music is her greatest joy in life. An avid singer/songwriter, she dreams of having a song play on the radio or in film. Eileen plays both the piano and acoustic guitar and loves to perform at festivals and coffee houses as a solo act and in a duo called Double Intrigue.  When she started to lose her hearing in 2015, she lost something that brought her an immense amount of joy, and the Hearing Aid Project is in the midst of getting her setup with brand new hearing aids to bring it BACK. Soon she'll be able to play music for the rest of her life… talk about TURNING IT UP!
The Hearing Aid Project strives to make a difference in people's lives everyday. Their mission is their passion, and we were thrilled that we were able to support them throughout the #TURNITUPTOUR.
To learn more about the amazing work they do or make a direct donation, click here.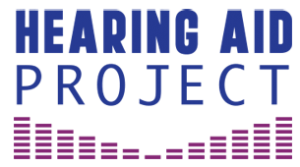 THANK YOU POUND POSSE FOR TURNING IT UP THIS YEAR 🙂