INSPIRED BY OUR BRAND AND BELIEFS, THE NEXT GENERATION OF POUND® IS HERE.
Generation POUND® was created not just as a workout geared towards kids, but a MOVEMENT that aims to change the concept of health and fitness for today's youth. Get ready to make fitness about self-expression, empowerment, self-love and FUN! How? By introducing alternative ways to, MOVE, ROCK, PLAY and MAKE NOISE!
Are you a school administrator or passionate educator looking to bring the program to your school? Generation POUND is perfect to integrate with P.E., music class, after school programming, summer camp, home room, band and more! Learn more by checking out Generation POUND for Schools. 

The Class: Mind x Body x Inner Rockstar
Our youth-oriented program fuses movement and music to improve focus, coordination, physical fitness and teamwork skills for school-aged children (i.e. "Rockstars in Training") ages 6-12. A mobile program that can come to life anywhere, instructors use Ripstix®–POUND's lightly weighted exercise drumsticks–to learn alternative ways to explore movement.
The power of Generation POUND encompasses more than just physical fitness. Combining kid-friendly choreography and group activities, it promotes social and emotional well-being by fostering relationships, building self-esteem and self-awareness, and inspiring the next generation of happy, healthy kids.®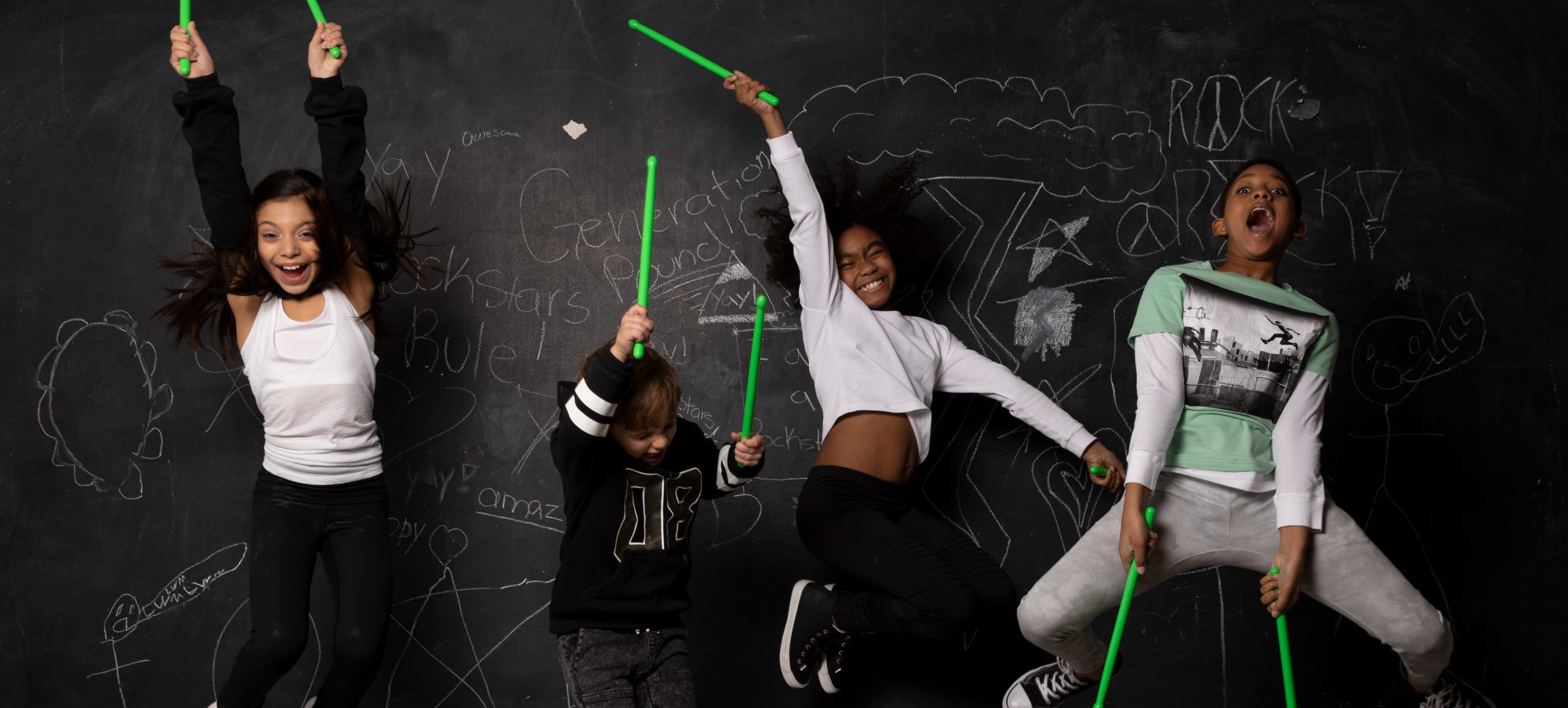 Inspired by the three pillars of POUND–mind, body, inner rockstar– Generation POUND's one-day, 9-hour training provides POUND Pros the foundational education and skills needed to teach this exciting new program and excel as an instructor, mentor and role model for the next generation
YOU'LL LEAVE TRAINING UNDERSTANDING
Prerequisite: Must be a Licensed POUND Pro with an active subscription to The Label to attend Generation POUND training. 
New to POUND and eager to launch kids programming right away? We've got you covered! Simply filter your training results using the link below and look for upcoming POUND + Generation POUND Back2Back training options – a two day training experience that fast tracks your ability to teach both programs, with no prerequisites required. 
GENERATION POUND® FOR SCHOOLS
Looking to launch Generation POUND at your school? You have a variety of options! If you're launching school or district wide, and you're ONLY interested in teaching Generation POUND to your students, head over to our Generation POUND for Schools page for unique training options to meet your needs! If you're a passionate POUND Pro who teaches at gyms, community centers, AND SCHOOLS, or you work with multiple schools and want the flexibility to teach full classes in a variety of settings – our core POUND + Generation POUND Trainings or Back2Back trainings are the best option for you, as they grant a full license to teach ANYWHERE and EVERYWHERE rather than just at school! 
As licensed Generation POUND Pros, teachers have access to:
Lesson plans that align with U.S. national and state physical education standards for grades 1-6

Generation POUND's complete choreography library and Activity archives

Regularly updated and customizable marketing and promotion materials 

Resources designed to help the program thrive at your school POUND HQ

Support from hundreds of fellow Generation POUND Pros through private social groups

Access to continuing education opportunities
Generation POUND classes can be crafted to meet the needs of your school P.E. curriculum, afterschool programs, summer sessions and more. As outlined, Generation POUND for School lesson plans last approximately 60 minutes but Pros are at liberty to abbreviate or elongate lessons as is needed for their classrooms so long as each lesson's standards are maintained and achieved.