Join over 25,000 fitness rebels on a mission to ROCK the globe.
POUND® is a 45-minute cardio jam session, inspired by drumming. Technically speaking, it's cardio and conditioning curated within a noise-making, soul-bearing experience, carefully calibrated with high-intensity interval peaks and extended fat burning sequences, all set to a badass soundtrack.​
learn everything you need to be a ROCKSTAR instructor In our 1-day, 8-hr training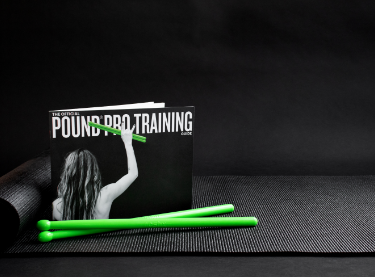 The basics of POUND®
including the 4 core positions and how we use rhythm and mind-body connection to release inner rockstars. Your Certificate of completion
an active teaching license and continuing education credits from the world's leading accreditations.

6 tracks of choreography
and the building blocks to design a class so you can start teaching POUND® immediately.

Access to The Label
our online instructor portal with all the necessary tools to help you build, teach and promote your classes.
DON'T SEE A TRAINING NEAR YOU?
Let us know the city you're interested in and we'll connect with you about any upcoming opportunities. We just opened our studio a month ago and our members have loved POUND! It has been really eye catching for current and potential clients as they've never seen anything like it. Genius format. Amazing class. Love love love!
Having spent the last 30 years in the Health & Fitness industry working with the majority of operators globally I've been fortunate to come across many third party suppliers in their quest to forge a partnership in order to influence consumer behaviour with an end goal of member retention. To find a proposition such as POUND that is cutting edge, unique & extremely member centric is an absolute delight. The genius is in its simplicity with a support structure from their amazing team at POUND HQ that is second to none
Not only has my body changed, but teaching POUND has given me a new confidence. It's a special workout which I am proud to be sharing with all fitness levels! All the other classes I teach are better because of POUND! It rocks my world!
I teach POUND four days a week 'rain or shine.' There have been many times that if it was ANYTHING else, I would have either canceled, hated, or dreaded it. I have figured out my WHY. Every single time I've rocked out with my posse in rough times, I have ended up on the other side a better person with a better capability of handling what's ahead. This is more than endorphins and feeling accomplished in your step goals, this is truly connecting, releasing, and BEING. I am also so grateful to have somewhere to place these thoughts.
I have seen POUND take my members to emotional releases and positive attitudes like no other! Where else can you physically hit something with a stick and it's socially acceptable?!
POUND puts a smile on my face every time I teach and gives me a sense of determination like no other fitness modality out there. Best decision of my fitness career.
I smile when I think of the POUND family—I get to see POUND reach my students and change their bodies. I get to engage with new people who try it and I see their face light up. My favorite is when I elevator pitch to folks at the gas station, give them my schedule, and feel elated when I SEE them in my class!
WE LEAD
workout experiences that are addictive, effective, safe and fit for any age and every stage, anywhere in the world.
WE CARE
for the mind and the body, using beat an alternative movement to launch humans to new heights of self-worth, happiness and human connection.
WE BAND TOGETHER
with the understanding that we are stronger together than we could ever be alone, supporting and encouraging progress over perfection and competition.
Whatever your question, we're here to help! See our most Frequently Asked here, or fill out the form above and one of our team members will get back to you ASAP!
Q: Are there any prerequisites to taking POUND Pro Training?
A: Nope! Just the desire to ROCK 🙂
Q: What happens after Training?
A: After completing POUND Pro training, you are officially licensed and READY TO ROCK. You will be given a month of free access to our instructor portal, The Label, where you'll have unlimited access to choreography videos and everything you need to successfully launch and promote your classes!
Q: Do I need any other certifications before I can teach?
A: POUND® is considered a specialty certificate, so depending on your country or facility center, you may need a general group exercise certificate. Be sure to check with your government or local guidelines to see what the requirements are in order for you to teach.
Q: POUND is a pre-choreographed program – how often is new choreography released?
A. Every single month!
Q: Where can I teach POUND?
A: POUND classes can be found at large gym chains, health clubs, boutique studios, rec centers, parks and community centers. It's simple and easy to become a POUND Venue, and there are no fees for a facility to offer the program.
Q: Is there support to launch and promote my classes?
A: Absolutely! Your success is our success. Inside The Label and our online Business Center you'll find customizable marketing materials, social assets, blogs, vlogs and more!