Turn up the volume at your facility with POUND®
Become a POUND Venue and offer one of the most accessible and addictive group fitness programs in the world! With our portable, lightweight equipment and a workout format designed for every age and every stage, POUND classes can be offered anywhere and to a multitude of audiences.
It's simple and easy to become a POUND Venue. There are no fees incurred to register your facility as a POUND Venue, and there are no ongoing annual, renewal or licensing fees required to offer the POUND program.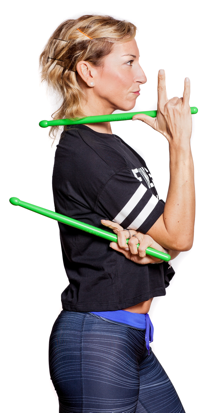 1: A POUND PRO
Find a local Pro or get your instructors certified at one of our upcoming POUND Pro trainings where they'll receive the knowledge and skills needed to immediately begin teaching classes.
Find a POUND Pro Training near you or request information on hosting a POUND Pro Training at your facility.
2: RIPSTIX®
Our proprietary product, Ripstix®, are lightly weighted exercise drumsticks that give participants the permission to rock! A variety of affordable Ripstix® packages are available – from 15 sets to 50 sets – to suit your needs and budget.
Differentiate your group fitness programming with POUND. Stand out from the competition, attract new clientele, boost new member sales, and increase member engagement with this visual, edgy and sought-after workout.
Get listed on our Find a Class page, the most visited page of our website with over 100k visits per month. Plus reap the benefits of POUND featured in the press – from national programs to major network TV shows to live events, social media and more!
Get access to our online Business Center for downloadable marketing and promotional materials including videos, posters, and banners. Plus, receive insider tips on best practices to launch and grow POUND classes at your facility.
The POUND workout is one that stands out – both visually and audibly. Its addictive nature and community-driven culture keeps members engaged, enthusiastic and long term fans.
"Having spent the last 30 years in the Health & Fitness industry working with the majority of operators globally I've been fortunate to come across many third party suppliers in their quest to forge a partnership in order to influence consumer behaviour with an end goal of member retention. To find a proposition such as POUND that is cutting edge, unique & extremely member centric is an absolute delight. The genius is in its simplicity with a support structure from their amazing team at POUND HQ that is second to none"
"We just opened our studio a month ago and our members have loved POUND! It has been really eye catching for current and potential clients as they've never seen anything like it. Genius format. Amazing class. Love love love!"