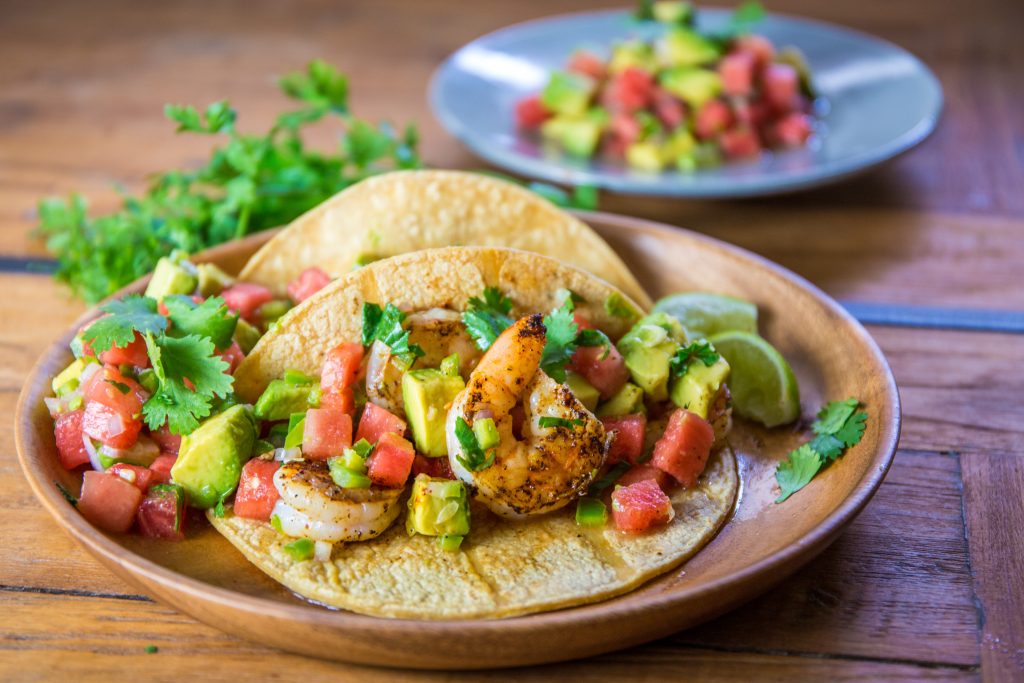 What better way to celebrate the USA's b-day than in the backyard with the best people, laughing and making memories over the grill? (The answer is NOTHING). Grilling with friends is probably one of our favorite activities during the summer, and it all starts on July 4th!
In LA, instead of hot dogs stands, we have fruit stands. They fill a huge plastic bag with watermelon, mango, cucumber, melon and jicama and they top it off with chili powder and lime juice. It's delicious and it inspired our 4th of July tacos this year. Grab these simple ingredients and whip up a taco fest that will outshine the fireworks!
Watermelon Salsa
1 large Shallot, finely diced
1 medium Jalapeño, finely diced
Juice of 2 limes (plus one extra for wedges)
1/2 avocado, cut into 1/2 inch squares
1 cup watermelon, cut into 1/2 inch squares
1 T cilantro, chopped
Salt and pepper to taste
Combine all ingredients and set aside.

Shrimp Tacos
1 LB Shrimp, cleaned and uncooked
1/2 t garlic powder
1 t chili powder
Pinch of cayenne
1/2 t salt
1/4 t freshly ground pepper
Mix all ingredients together. Skewer and grill, 3 minutes per side, or until tender. Serve warm in corn tortilla, top with watermelon salsa. Garnish with lime wedges and cilantro.