Gifts fit for a QUEEN…or your MOM!
Your mama is stunningly bright and jaw-droppingly beautiful. She's downright magnificent. We bet that she's a total badass, too. And, she's so blessed (most of the time) to have such a thoughtful, loving child in her life. We're talking about YOU, kid.
UNLESS, that is, you haven't cooked up a Mother's Day gift for her yet. In that case, you're grounded!
Save the Day and get your mom somethin' special this year…something straight from the heart.  And if you don't know how to do that, well, you're in luck! We've wrangled our SIX FAVE FINDS for ya, all of which are original, fun, and will leave mama happy on Mother's Day and beyond! Beyond is the important part 🙂
Which gift (or GIFTS, if you're goooood) will your mom be sportin' this Spring?
1. Stop and smell the rose(mary)
Check out this splendid gift that teams gourmet olive oil with a culinary-grade rosemary plants, all in one package! Bonus: the rustic crate it comes in doubles as a plant, so Mom can grow her herbs in style.
2. A Recipe to remember
Beef up your mom's recipe arsenal– without the beef– with this phenomenal vegetarian recipe collection!
The Forest Feast Cookbook
3. Steepin' in love
Brew the perfect cup o' tea with your mom in a cinch with Teavana's clever lil TeaMaker.
Teavana Perfect TeaMaker
4. Put on your best apron
There's nothing like bonding with your mama over chopping, slicing, simmering and sizzling, especially when you get to munch on the finished product– a tasty meal! Check out a cooking class at Sur la Table and select one you know Mama will LOVE!
5. Plant some memories
Bring the great outdoors into your mama's living room with this gorgeous hanging terrarium! She'll be reminded of you every time she sees it grow 🙂 Swoop one up at Studio DGH or find a local store in your area to support.
6. Mom's that POUND together, have Happy Mother's Days!
The POUND DVD is the gift that keeps on rockin', so whether you go in on a little duet or let your mom rip a fierce drum solo, she's bound to love jammin' out and staying fit!
And, in the spirit of Mother's Day and in honor all our moms give to us, we're giving all of YOU a 15% discount on EVERYTHING in the POUND Store! That means tanks, T's, hoodies, DVD's — you name it! Just enter in POUNDMOM as your Claim Code at checkout!!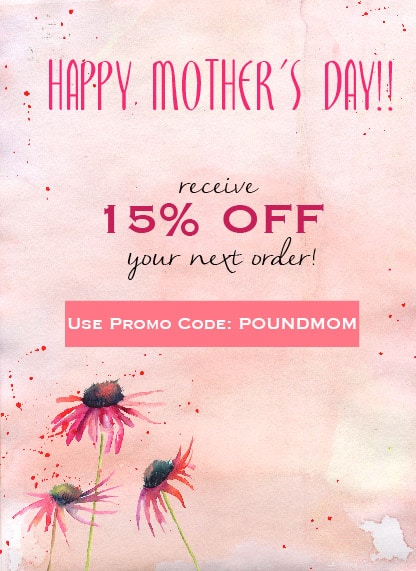 We hope all you kids, mamas and mamas-to be put these tips to good use, and please, don't forget to share this special day with your POUND MAMAS– that's US! You know where to find us: Facebook, Instagram , YouTube and of course, Twitter!
Your POUND mamas,
The POUND Girls