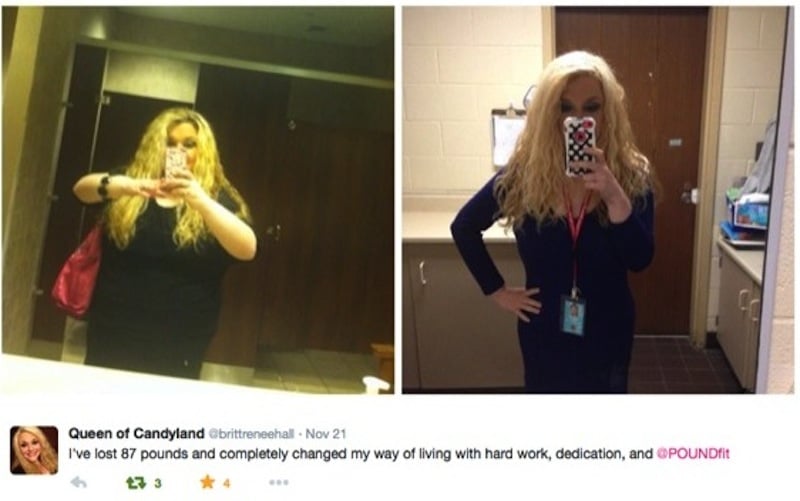 We love hearing from our #POUNDPosse all over the world and ironically, we find some of our best success stories on the platform that ONLY allows 140 characters! We saw Brittany's story when she tweeted us before and after pictures of her AMAZING transformation and immediately asked us to tell us more! Look at her amazing transformation and you'll see why 😉
Brittany's journey began in February 2014 when she tried vegetarianism "for the 3rd or 4th time" and she decided to start walking. Before that, she said, she "ate like crap, ate out of boredome, and for comfort – [she] was crippled by laziness." Brittany started off by setting a goal to walk 10,000 steps a day and adding in that little bit of exercise to her otherwise static routine resulted in 30 pounds lost!
In May, Brittany's co-worker talked her into trying POUND:
"Though the soreness that I felt after my first class was unparalleled, I went back two days later and worked it out — and I've been a POUND enthusiast ever since. I started going to class 3 days a week. Eventually I started doing POUND at home, too, and it's become part of my daily life. It's a great stress reliever and the best workout I could ever do."
To maintain her lifestyle, Brittany tries to eat a low calorie diet and make good choices daily and treats herself 😉 only occasionally. When we asked Brittany what her biggest struggle has been, she answered with something that many of us struggle with.
"My biggest struggle is still my inclination to turn to food whenever I'm sad or stressed or upset. But, I've found that reading food labels and seeing how hard that I would have to work to burn the bad thing off is usually motivation enough not to eat it. If a craving is particularly bad, a bite or two is usually enough to satisfy me."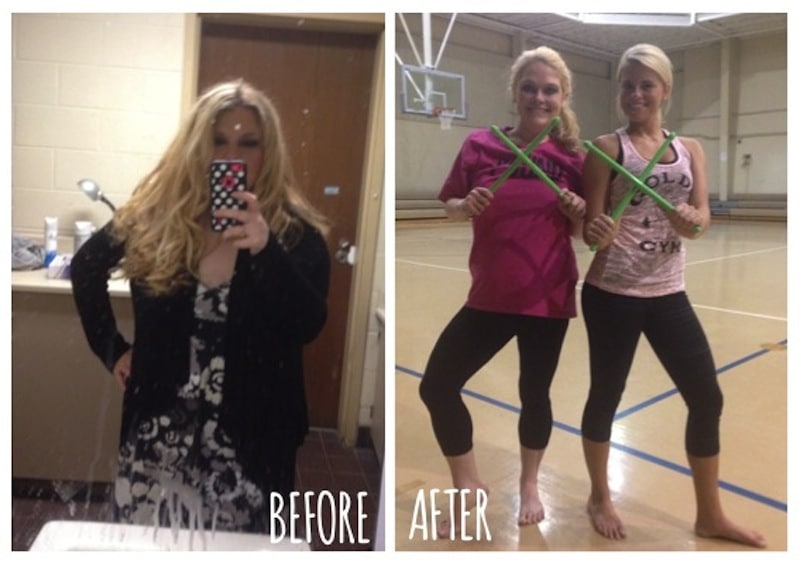 We admire Brittany for her honesty in sharing her journey with us! We're so proud of her accomplishment and we know that this journey is not one that has a beginning and an end. She maintains her lifestyle by staying aware of what is going into her body and she stays mindful of her body and soul. This is the best way (and the ONLY way) to have a balanced life.
Brittany takes class with POUND PRO Alli Mills at Roy F. Collier Community Center in Inez, Kentucky.
If YOU have a story about how POUND has changed your life — whether you hit your goal with weight loss, got a huge confidence booster, or made it through a tough life event — we want to hear about it! Email your story to [email protected] with the subject line: The POUND Effect 🙂
And if Brittany's story inspires you as much as it inspires us, give her a shoutout on Twitter @brittreneehall!
Love,
The POUND Girls