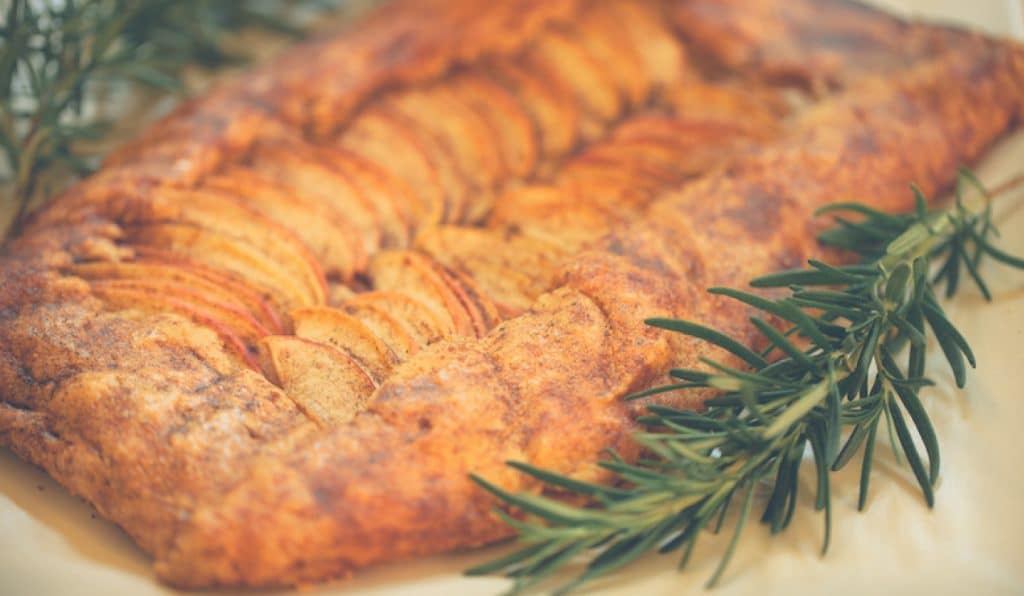 The time of year has struck where we must choose: do I follow my taste buds OR my healthy eating regimen? This year, you don't have to choose because we have a simple solution: Follow BOTH!
This Thanksgiving, let your taste buds steer you towards this sweet and savory Apple Tart that looks, smells and tastes like it's straight out of a magazine (Bon Appetit magazine, to be exact).
Don't be fooled by it's decadent exterior: this tart may look unhealthy but it packs a mega-healthy punch of antioxidants, healthy fats, and sustaining protein. We were inspired by Bon Appetit's rendition of the Apple Galette, but in true POUND fashion, we tweaked each ingredient to be just a bit more nutritious.
This recipe takes a little bit of time, so put on some good cooking jams, get in the zone and follow along as we walk you through!
Start by making your Gluten-Free Dough:
Ingredients
1 T coconut sugar
½ t sea salt
½ C brown rice flour
½ C almond flour
6 T Ghee or unsalted butter, cut into pieces
1 large egg, beaten to blend (optional)
Directions
Combine dry ingredients together in a medium bowl.
Add butter and combine mixture with your hands. It should resemble a smooth dough when you're finished.
Optional: Drizzle beaten egg over mixture and gently mix with a fork until combined
Sprinkle brown rice flour on a cutting board and knead dough until smooth — adding more brown rice flour as needed.
Form dough into a disk and wrap in plastic wrap to chill until firm (1 – 2 hours)
BAKER'S NOTE: We've tried the dough with or without the egg and both work! If the dough is a little sticky, roll it out with your hands directly on the parchment paper!
Now, put your tart together! The filling ingredients and assembly work like this:
Ingredients
¼ C ghee
½ vanilla bean, split lengthwise
Tart Dough (see above for recipe)
Brown Rice Flour (for dusting)
2 Pink Lady Apples, sliced ⅛ inch thick
2 T coconut sugar
1 egg
Directions
Preheat oven to 375 degrees F.
Place ghee in a small saucepan and scrape in vanilla seeds, then toss in the pod. Cook over medium heat, stirring often, until butter foams and then browns (about 5 – 8 minutes). Remove saucepan from heat and remove the vanilla pod from mixture.
Roll out chilled dough on a lightly floured surface into a rectangle shape. Transfer to a parchment-lined baking sheet. (You can also place the dough directly on the parchment paper and work the dough with your fingers to create the same shape.)
Arrange the sliced apples on top, layering them in rows and leaving a 1 ½ inch border on each side. Brush the apples with the butter mixture and sprinkle with the coconut sugar. (Check out the video to see us do it!)
Lift the edges of dough over each edge of the rectangle. Beat egg with 1 teaspoon of water and brush crust with egg wash mixture. Sprinkle the remaining coconut sugar over the top and edges.
Bake for 40 – 50 minutes. Rotate once.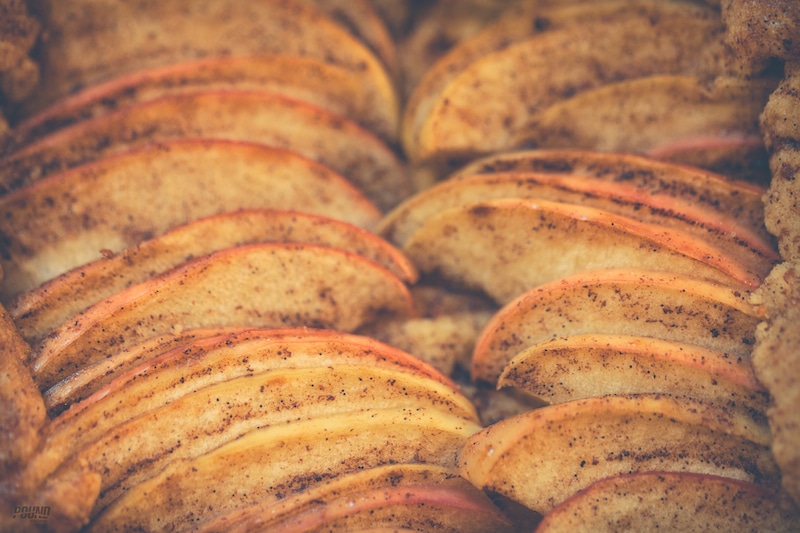 Alright, POUND Posse, how did your Tart turn out? Don't be TART-y for this party—whip up your own and make sure you share pics on Facebook, Instagram and Twitter! We want to see your masterpieces before your taste buds takeover and your goodies disappear.