Nothing screams "PARTYYYYY!" quite like sizzlin' hot, bite-sized buffalo wings! AND, oddly enough, nothing screams "STOMACH ACHE!" as loud and clear as wings, either! Womp womp. Between all that saturated fat coming straight from the chicken skin, sodium from the signature firey sauce, and heapin' calories from the mayo-based dipping sauce, wings take your stomach by storm… and then some.
So, we're remixed a comfort-food favorite and bringin you Cauliflower Buffalo Wings that are not only spicy, tangy and finger-lickin' good, but are tummy (and waistline) friendly! Win, win! That's a "comforting" thought, now isn't it.
Wrangle these cheap, wholesome ingredients and make your own tonight!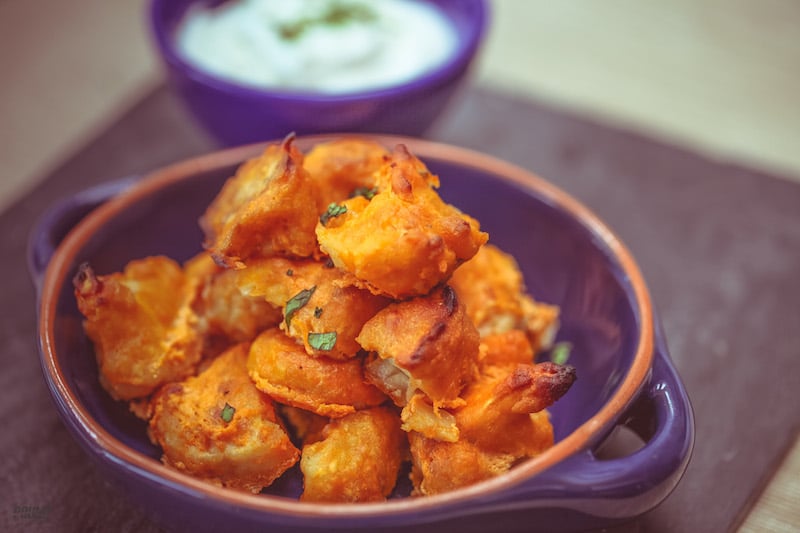 h1>Cauliflower Buffalo Wings
Ingredients:
Wings:
1 head of cauliflower, chopped into bite-sized pieces
1/2 C brown rice flour
1/2 C water
pinch of sea salt
1 t garlic powder
Buffalo Sauce:
1 tsp ghee
1/2 C Franks Red Hot Sauce
Ranch Dipping Sauce:
1/2 C Greek Yogurt
1 t garlic powder
pinch of sea salt
1/2 t lemon zest
Directions:
Preheat oven to 450F. In a small bowl, combine brown rice flour, water, garlic powder and salt. Whisk until combined.
Dip cauliflower pieces in the batter until coated evenly, then place it on a baking pan.
Bake for 10 minutes and then flip and bake for another 10 minutes.
In a skillet, heat ghee and Franks Red Hot Sauce to combine. When the cauliflower is finished baking, place it and the sauce mix in a bow. Gently mix together until each wing is coated evenly.
Switch oven to Broil and broil coated cauliflower for an additional 10-15 minutes, or until crispy.
Remove from oven and let cool.
Combine your Ranch Dipping Sauce ingredients in a small bowl and enjoy!