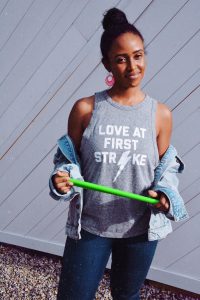 Kirsten Keeton is our rockstar Regional Market Manager for the U.S. and Canadian territories at POUND HQ.  Based out of California, she is a self-proclaimed film junkie and part-time history buff that loves to engage in social discourse. Check out what Black History Month means to her and the team at HQ below!
Black History Month is the evolution of Carter G. Woodson's Negro History Week. Established in February of 1926, Woodson created Negro History Week as a way for Black Americans to recognize our contributions made throughout U.S. history beyond slavery.  Woodson wanted Black Americans to be proud of their heritage and to know about the people of color who were pioneering in spite of the racial terror that held a significant weight over the entire Black community. Although there is a remarkable amount of hidden figures, the tradition of Black History Month allows us to uncover and celebrate the Black Americans who are hardly (if ever) covered in our contemporary history books, as well as the black historical figures that are appreciated worldwide.   
I recognize Black History all twelve months of the year, but I celebrate Black History Month with the rest of the country in February.  It's a national tradition that I hold very near and dear to my heart. There is a huge difference between recognition and celebration. You can recognize without celebrating, but you can't celebrate without recognition. Normally, I attend local Black History Month parades and other events to observe this period, but since the pandemic did away with all of those events this year, I lean on other outlets. Since I love film, I compiled my own list of narrative films and documentary specials that focus on the Black experience in America (listed for you below).Throughout the day, I listen to the music of Black artists who crafted the diverse styles of American music we identify with today. I also take the time to reflect on all of the social movements spearheaded by generations of Black Americans. Movements that advanced the livelihood of all people and literally saved me from being viewed as a second class citizen in the eyes of the law. Movements that remind me that progress is an ongoing motion and we are still in the middle of dismantling all the tools of racial oppression.
When I think of Black History within the fitness realm, I think of the people of color who broke barriers (and inspired millions) by showing how accessible fitness can be. I think about the Williams sisters, who dominated in a sport that had never seen women with their body composition, their style or their background grace the tennis court. There is also Julius Erving (aka Dr. Jay) who revolutionized the game of basketball by making individual creative expression through slam dunks and midair rotations, a dominant staple of the modern NBA player's game. I also fondly remember the first Black American group fitness instructor I ever saw, Billy Blanks. My mom, my grandma and my aunts all had multiple Tae Bo tapes. Now that I think about it, Tae Bo is the earliest memory I have of working out with my family. Through reflection, I know why we gravitated towards Billy Blanks and, ultimately, fitness. Here was a black man surrounded by women of all colors, coaching them through strenuous workouts and telling them they can push through whatever is holding them back to become the healthier version of themselves that they aspire to be. That representation paired with the messaging definitely spoke to us and birthed an overall positive relationship between me and fitness. However, Billy Blanks was one of the few prominent Black figures in the fitness industry when I was growing up. After him came the likes of Shaun T, a man who bridged the musicality of dance and fitness with his program Hip Hop Abs. Between Billy Blanks and Shaun T, influential POC in the group fitness industry were few and far between. Today is a whole different ball game. With the emergence of social media, you can now access a more diverse crowd of fitness instructors from the comfort of your own home. 
Accessibility is key when we discuss health and wellness. Civil Rights leaders of the past fought against inequality by advocating that our nation live up to it's fundamental ideals. A significant part of their mission was to ensure equal access to public accommodations. The whole concept of Black History Month was born from the lack of access to pertinent information – information that shaped how a whole population of marginalized Americans saw themselves. POUND is always on a mission to make fitness more accessible to people all over the world, but the BLM movement prompted us to take a deeper look at how we are making way for more progress. In order to create more inclusive spaces in fitness, we opted to lean into the conversation and take action. Last year, we outlined those commitments and shared them with all of you. To keep us on track, we formed an internal DEI Committee solely dedicated to keeping us activated and accountable in the push for equality and equity. Making lasting change is never easy, so we also partnered up with some of our like-minded peers in the fitness industry to make a greater impact. 
Carter G. Woodson saw the celebration of Black History as a way to ensure Black Americans would no longer go unseen. The best way we can honor that mission is to ensure that no demographic within our diverse fitness community goes unrecognized. 
Happy Black History Month!
-KK
FILMS: 
Carmen Jones (1954) – First film with an all Black cast/1st black actress nominated for best lead actress at Oscars.
In the Heat of the Night (1967) – Influential film that came out during the Civil Rights Era starring Sidney Poitier. 
The Color Purple (1985) – Fictional film on the experience of black women in the south based on a book by black novelist, Alice Walker.
Remember The Titans (2000) – Integrated VA H.S. football team in '71.
Barbershop (2002) – Dramedy about a neighborhood in Chicago that communes around a historic barbershop.
Hidden Figures (2016) – The untold story of Katherine G. Johnson, Dorothy Vaughan and Mary Jackson – brilliant African-American women working at NASA and serving as the brains behind one of the greatest operations in history – the launch of astronaut John Glenn into orbit.
One Night In Miami (2020) – A fictionalized version of the meeting Malcolm X, Muhammad Ali, Jim Brown, and Sam Cooke had at the Hampton House in February 1964, celebrating Ali's surprise title win over Sonny Liston.
DOCUMENTARIES: 
Black Patriots – History Channel
13th – Netflix
Becoming – Netflix
Amend: The Fight For America – Netflix
I Am Not Your Negro – Hulu
Rest In Power: The Trayvon Martin Story – Paramount TV