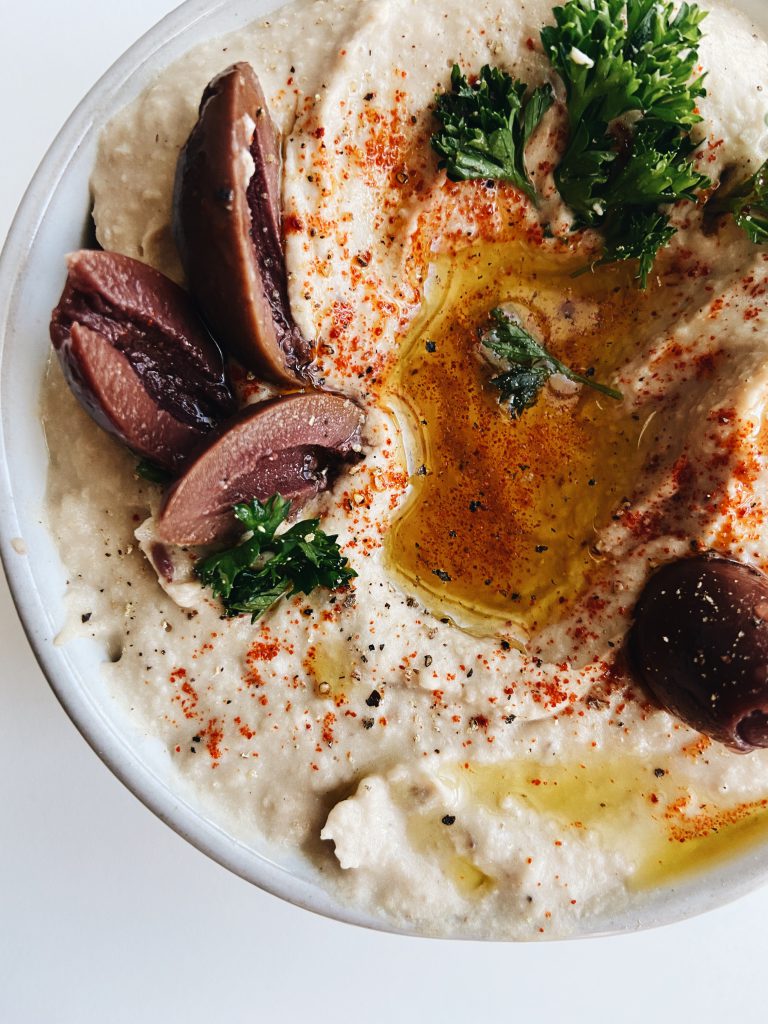 Let's face it- we all love a good dip. Hummus is such an easy staple to make, and there are so many ways you can change it up! Roasted red peppers? Yep. Cilantro? Throw it in! We chose kalamata olives, but feel free to switch it up with what you have on hand!
You'll need:
1 can garbanzo beans

½ C tahini

¼ C pitted kalamata olives

1-2 garlic cloves

Juice of 1 lemon

2-3 ice cubes

1-2 TBSP olive oil.

Directions:
Add all ingredients to a food processor or blender.

Add water 1 TSP at a time as needed. Dish and garnish with olive oil, fresh parsley or basil, smoked paprika.

Serve with warm pita, veggies, or use as a spread!
Our twist on a traditional tabbouleh- protein style! For days when you're feeling light & fresh, but want a LOT of flavor. We've got you!
You'll need:
½ C cooked green lentils

2 bunches curly parsley

⅓ C fresh mint

⅓ C thinly sliced green onion

2 garlic cloves, minced

1 tomato

1 cucumber

Juice of 1 lemon

⅓ C olive oil

1 tsp sea sal
Directions:
Prepare lentils according to the package (you want them more firm, not soft or mushy for this dish.)

Dice tomato and cucumber and lightly salt in a bowl. Set to the side.

Finely chop parsley and mint or pulse in a food processor. Add green onion and lentils.

Return to the bowl of tomato and cucumber, and drain any excess liquid. Add to the bowl of herbs.

In a separate bowl, mix together the garlic, olive oil, and remaining sea salt.

Drizzle over your salad and toss until well incorporated. Serve it up!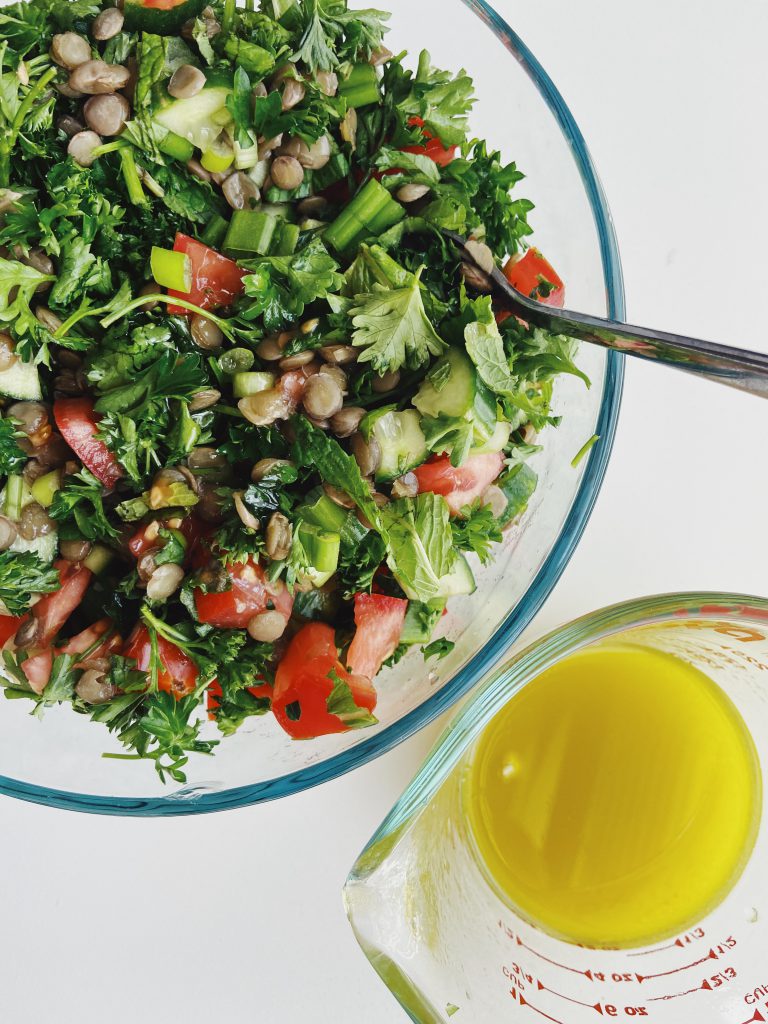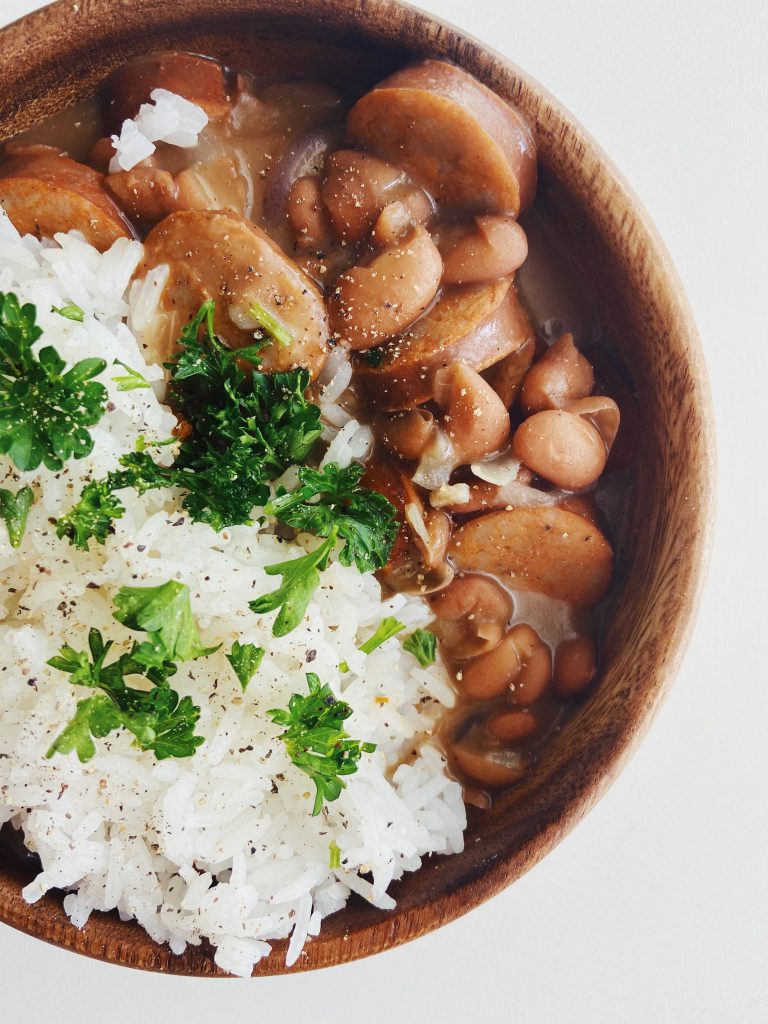 Comfort food at it's finest. This slow cooker recipe will change your mind about leftovers for good. The best kinds of recipes are the ones that cook themselves- are we right??
You'll Need:
1 bag pinto beans

1 onion

Andouille sausage

1 carton of chicken or beef broth

1 TBSP onion powder

1 TBSP garlic powder

1 TBSP creole seasoning (more to taste or for more spice)

Jasmine rice

Directions:
Sift through pinto beans removing any small rocks and/or split beans.

Using a 5 quart pot, cover beans in cold water approx. 2 inches above beans.

Cover pot with lid and soak in water overnight.  For quick cook method, bring beans to a boil for 15 min. and simmer for 2 hours to soften to taste.  For Crock Pot method, strain beans from water and add all above ingredients (except rice) to the pot and simmer for 6-8 hours.  Beans should be soft and sausage thoroughly cooked.  

To serve, ladle 1/2 cup cooked rice to a bowl. Add a ladle of beans and sausage with broth over rice.  Garnish with fresh parsley and enjoy!