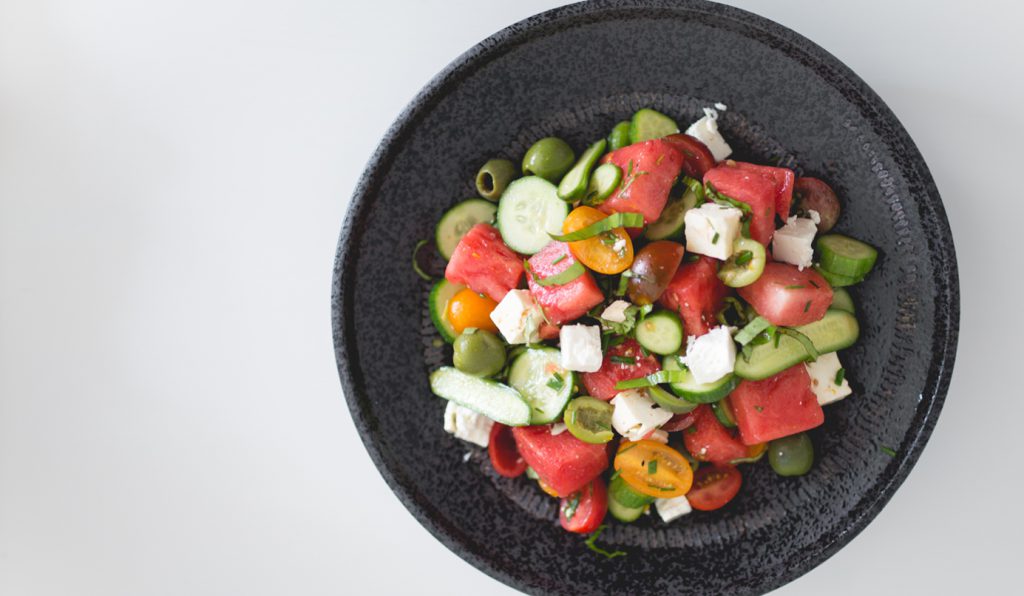 Watermelon and feta may be an odd couple, but it's a delicious one that proves that opposites attract. The juicy sweetness of watermelon paired with the creamy saltiness of feta makes a mouthwatering and healthy treat for any post-workout session!
Aside from the main two ingredients, just add a few other healthy Mediterranean staples to the mix—and voilà.
D I S H
4 cups Watermelon (cubed)

2 cups Persian Cucumbers

2 cups Cherry Tomatoes

1 cup Castelvetrano Olives (pitted)

¾ cup (1 Cup) Feta Cheese 

⅓ cup Basil

2 TBS Chives
D R E S S I N G
¼ c Olive Oil

Juice of one lemon

3 TBS White Balsamic ( Can use reg as well)

1 TBS Honey

1 tsp Orange zest

Salt and Pepper to taste
D I R E C T I O N S

1. Mix all dish ingredients together in bowl and serve.
2. In a separate dish or dressing container, mix all dressing ingredients together. Let chill for one hour before serving.