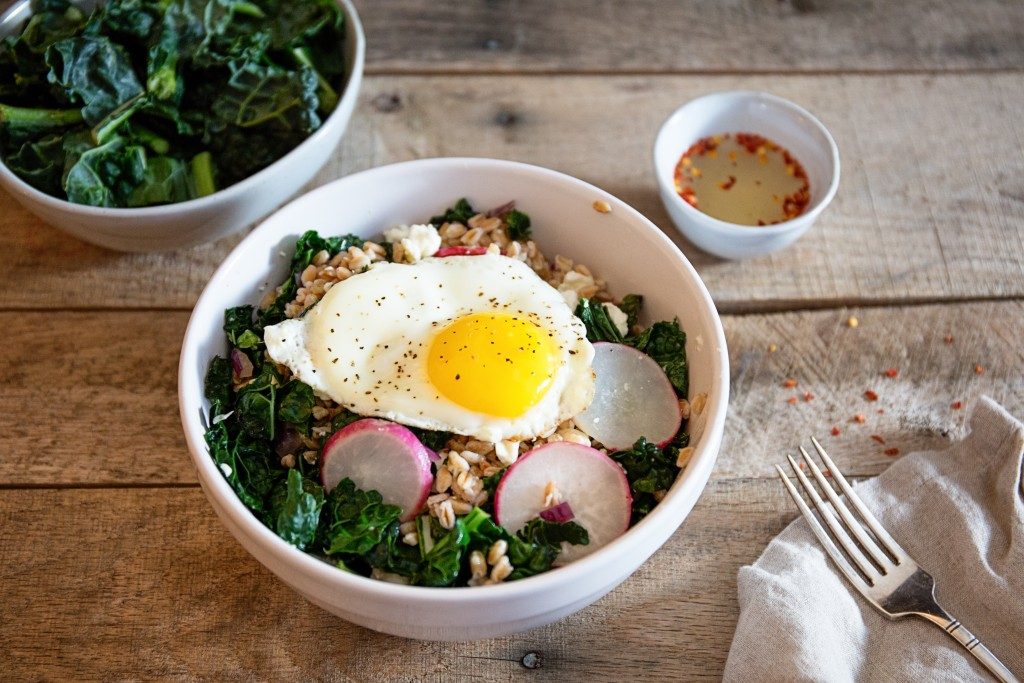 Whether you're looking for a hearty breakfast to kickstart a packed day or a filling lunch, this recipe is for you. Adding a healthful whole grain like farro to any meal will keep you energized and full throughout the day—and it boosts your immune system, too!
Free Falling FARRO BOWL
2 servings
Ingredients:
1.5 C Farro, cooked
⅓ C Red Onion, thinly sliced (let's add description here)
2 Large Radishes, thinly sliced
2 C Tuscan Kale, trimmed and massaged lightly
⅓ C Feta Cheese
1 T White Wine Vinegar
½ t crushed red peppers
juice of one small lemon
S + P
2 X Poached Eggs
Directions:
In a small mixing bowl combine vinegar, crushed red peppers and lemon juice, set aside.
Cook 1.5 Cup Farro. Once cooked, fluffed and drained, set aside.
Add a small amount of oil (of your choice) to a saucepan on medium heat. Add Kale, radish and onion to the pan.
Saute for 2 – 5 minutes or until the onions are translucent.
Add cooked Farro and vinegar mixture. Stir until warm.
Add cheese last, mix quickly and take off of heat.
Plate and top with poached egg
How to poach an egg: Crack egg into a ramekin or cup (to separate). Fill a pot with at least 4 inches of water, add a pinch of salt and a teaspoon of white vinegar. Bring to a rolling boil. Using a spatula, spin clockwise to create a tornado in the pot. Quickly drop in each egg. Cover immediately, turn off heat. DO NOT TOUCH or move for 3 minutes. After 2 minutes, remove each egg with a slotted spoon.