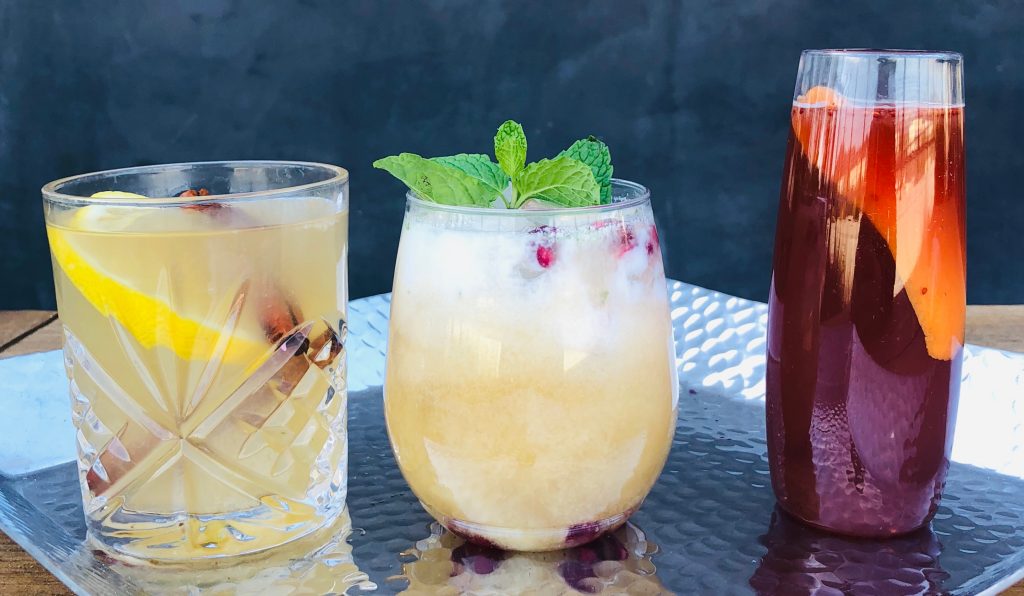 For our December edition of HQ Tries, we've decided to do something in the spirit of the holidays.  This month, we tried out three festive drinks for you!  Read on below for the full recipes, and get the scoop on what HQ thought about each.
1. Holiday Coconut Cooler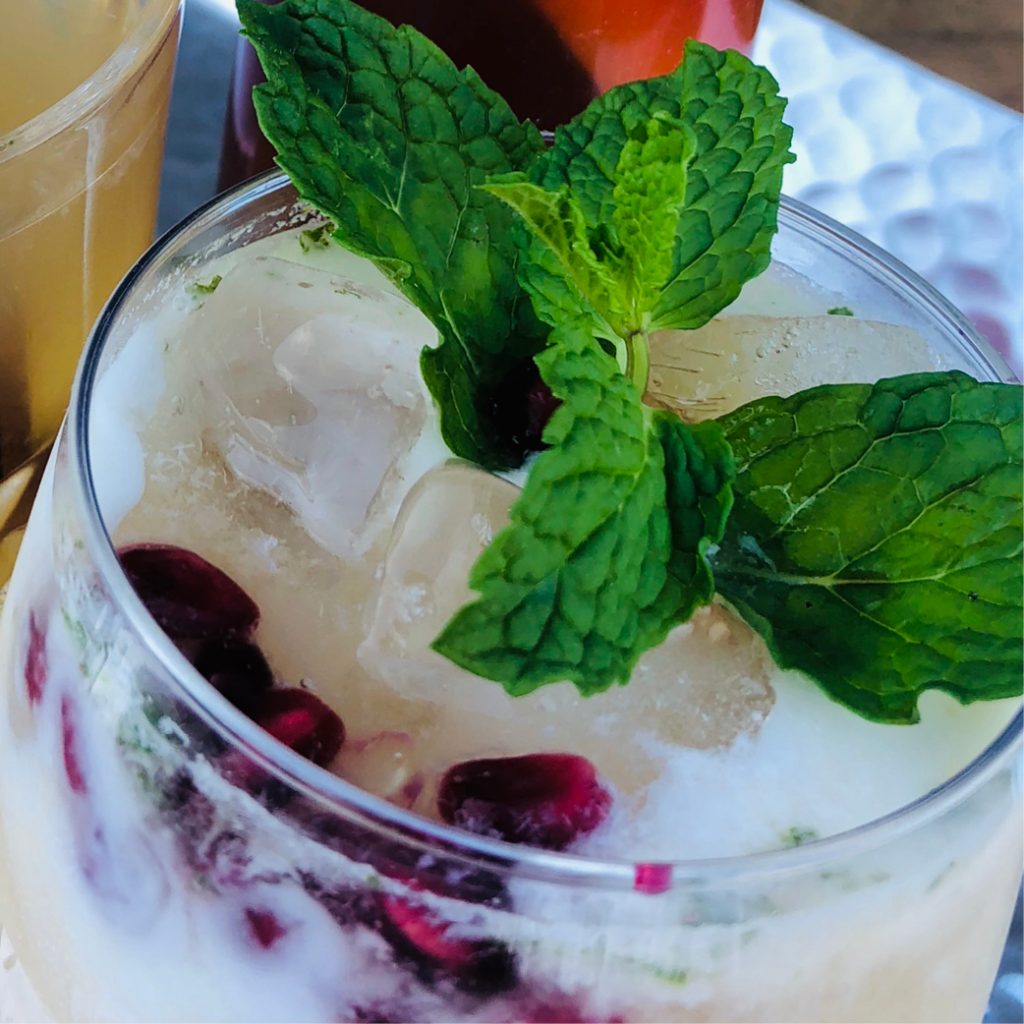 Prep Time: 5 Mins
Total Time: 5 Mins
Serves 4 (serving size: about 3/4 cup)
Ingredients:
1/2 cup fresh mint leaves
1 lime wedge
2 tablespoons granulated sugar
1/4 teaspoon kosher salt
3 ounces white rum
1/2 cup coconut water
3 ounces coconut rum
5 ice cubes
1 tablespoon fresh lime juice
2 cups cold unsweetened coconut milk
Fresh mint leaves and pomegranate arils for garnish
Muddle fresh mint leaves, lime wedge, granulated sugar and kosher salt in a cocktail shaker. Add white rum, coconut water, and ice cubes; shake for 15 seconds. Strain into a serving pitcher. Add coconut rum, fresh lime juice and refrigerated unsweetened coconut milk. Stir to combine. Pour into 4 lowball glasses filled with ice. Garnish with fresh mint leaves and pomegranate arils.
*Found on cookinglight.com 
HQ Reviews: 4/5
Name: Nik
Review: Yummy! It's probably dangerous because you can't taste the rum. Tastes like something you should drink poolside!
Name: Chelsea
Review: so light and refreshing! This one is minty and doesn't necessarily taste like a "traditional" holiday drink BUT would be great at any party for a variety of tastes!
Name: Kirstie
Review: I really liked that you couldn't taste the alcohol, I'm not a huge fan of super-strong tasting drinks. No flavor was too overpowering and they all worked well together!
Name: Em
Review: Tastes like a Christmas mojito- the coconut and lime are fun together! Mojitos just aren't my jam- but if their yours, you will probably love this one!!
Name: Audrey
Review: I love the coconut flavor – it always reminds me of summer. I think that as a "holiday drink", it can serve as an escape from the cold and give you something to look forward to/reminisce!
Name: Ian
Review: Definitely reminded me of summer time in a cup. I think the saltiness made it interesting for me. It gave me margarita/mojito vibes. Will definitely still drink if made!
2. Cranberry Ginger Shrub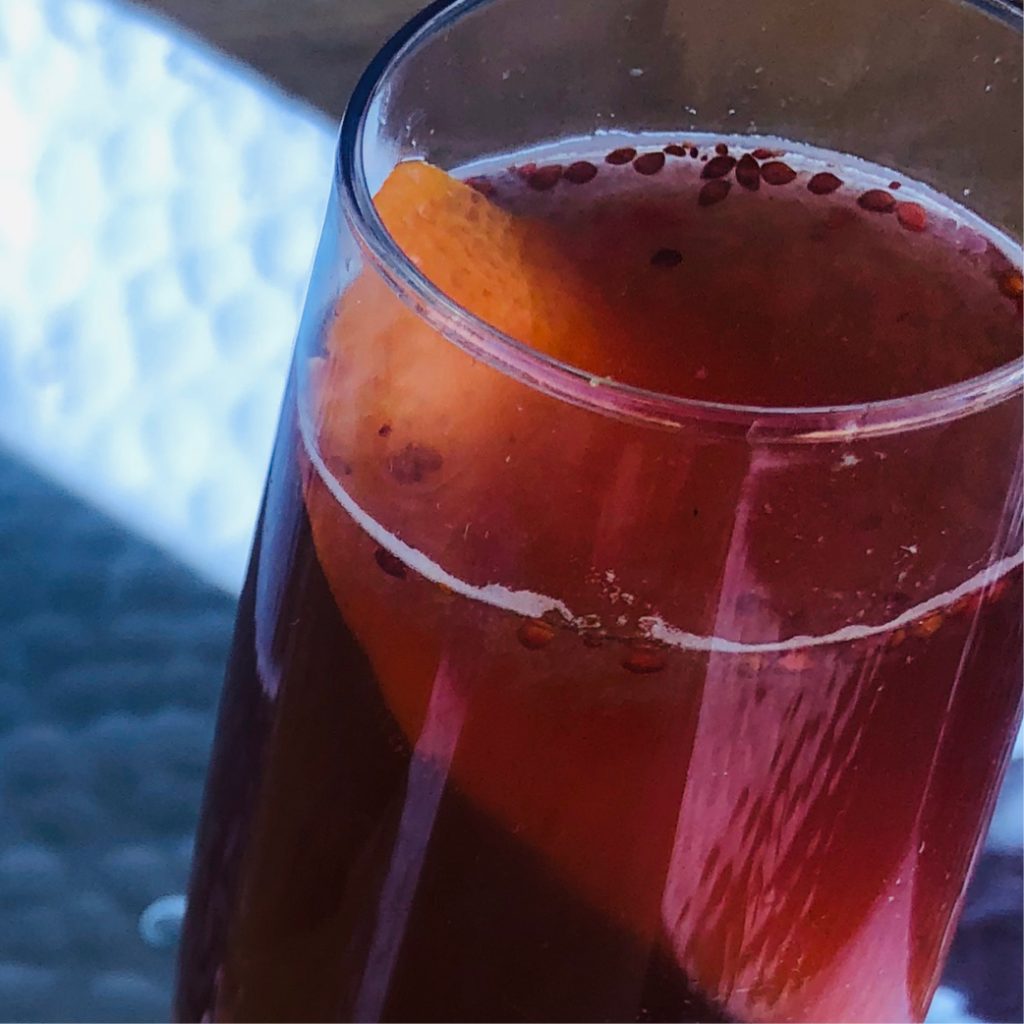 Prep Time: 10 Mins
Total Time: 2 Hours
Serves 16 (serving size: about 1 cup)
Ingredients:
1 cup apple cider vinegar
1/2 cup water
1/2 cup granulated sugar
2 tablespoons grated peeled ginger
1 pound fresh or frozen cranberries (about 4 cups)
6 (2-in.) strips fresh orange rind
8 cups Prosecco or other sparkling wine, chilled (about 2 1/2 bottles)
Step 1
Bring first 6 ingredients to a boil in a large saucepan over high; cook 10 minutes or until cranberries begin to burst, stirring occasionally. Remove pan from heat; cool to room temperature. Place in an airtight container and refrigerate 2 hours or overnight. Strain cranberry mixture through a fine-mesh sieve over a bowl, pressing solids with back of a spoon. Discard solids. Package for gifts, or continue with recipe.
Step 2
To prepare each cocktail, combine 1/2 cup Prosecco and 3 tablespoons shrub in an ice-filled shaker; stir. Strain into a martini glass.
*Found on cookinglight.com 
HQ Review: 4/5
Name: Nik
Review: I thought I would love this because I love cranberries and ginger, but it was a bit too sweet for me. I prefer to drink champagne on its own!
Name: Kirstie
Review: The flavors were very Christmas-y, but a bit too strong for my tastes. Definitely made my face scrunch up a bit, but I wouldn't pass it up if it were put in my hand!
Name: Chelsea
Review: FAVORITE! Tart, refreshing, and a bit sweet! I have a great love of all things cranberry, and love that this drink would match my holiday outfit for a party.
Name: Em
Review: My favorite- It's tart compared to the other two- but I love tart. It's got kombucha-like elements and the apple aftertaste makes it feel very festive and seasonally appropriate without being the "obvious" cinnamon drink.
Name: Audrey
Review: The drink was a bit tart for my liking, but that may just be the berries.
Name: Ian
Review: I think I liked this drink the most out of the three. Reminds me of a kombucha beer I've had from a bar. A bit fruity, a little bit sour.  I like it a lot and I'll probably be drinking a lot of this.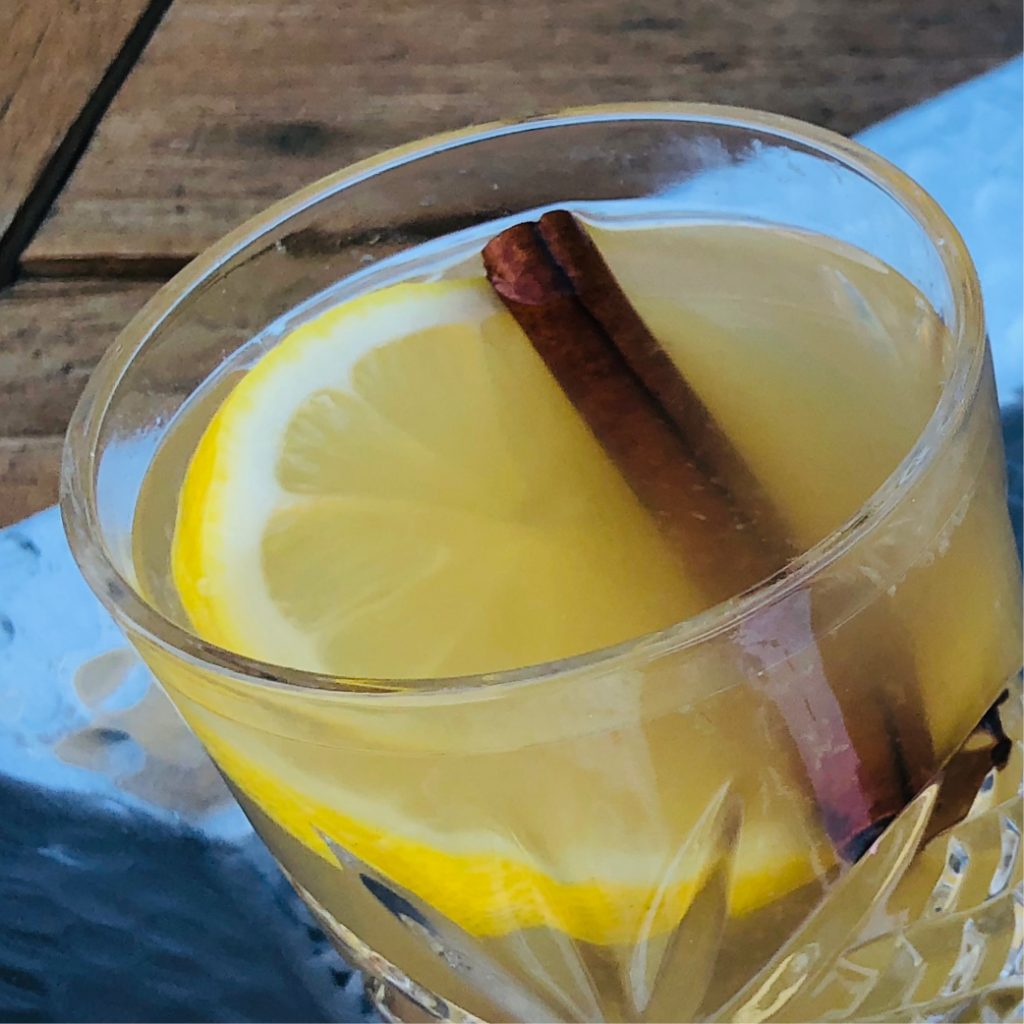 Prep time: 5 Minutes
Total time: 5 Minutes
Serves 1 glass
A hot toddy, also known as a hot whisky in Scotland, is typically a mixed drink made of liquor and water with honey, herbs and spices, and served hot.  You can make it with spiced rum, dark rum, or whiskey, and you can add many variations of ingredients – some people love to add cloves and nutmeg and boil it on the stove, but we went with a simple in-house favorite.
Ingredients:
¾ cup water (or tea)
1 ½ ounces rum (we used Captain Morgans)
¼ tablespoon apple cider vinegar
2 to 3 teaspoons honey, to taste
2 to 3 teaspoons lemon juice, to taste (we went heavy on the lemon)
1 lemon round for garnish
1 cinnamon stick
Pour the honey, rum, apple cider vinegar, and lemon juice into a mug. Add boiling water, throw in a slice of water and a cinnamon stick, let sit for 5 minutes, then enjoy!
*Bonus: Some believe that a hot toddy can relieve the symptoms of a cold or flu, we don't know if there is any science behind this – but we'll take it!
HQ Review: 4/5
Name: Nik
Review: Perfect drink for the holiday season, or to cozy up with by the fire. I love anything with lemon so this is always a winner for me.
Name: Kirstie
Review: Your girl here LOVES lemony things so this one was a no-brainer for me.  The cinnamon is a nice touch! The fact that it's heated up also makes it pretty soothing to drink. Hands down my favorite out of the three.
Name: Chelsea
Review: Wow! The most lemony Hot Toddy I've ever had – definitely tastes like warmth, couch snuggles, and Hallmark movie marathons (personal fave). Definitely a sipper!
Name: Em
Review: The cinnamon kicked me in the throat out of the gate! Warm and spicy- aka FESTIVE AF. Perfect for when you're sick but still want to party. (Fun side note – HQ has coined this our favorite quote of the day!) 
Name: Audrey
Review: I couldn't think of a better time to have this drink (or any cocktail that is hot for that matter).  Lemon, honey, and cinnamon are a few of my favorite things and a perfect remedy for this cough I have!
Name: Ian
Review: I think if I were really cold I would enjoy this. I didn't taste much of the alcohol, which maybe is a good thing.  (I think I'd add more if I made my own) I did love the lemon and cinnamon notes. It's a visually pleasing drink.
Got a healthy(ish) holiday favorite? Let us know below!