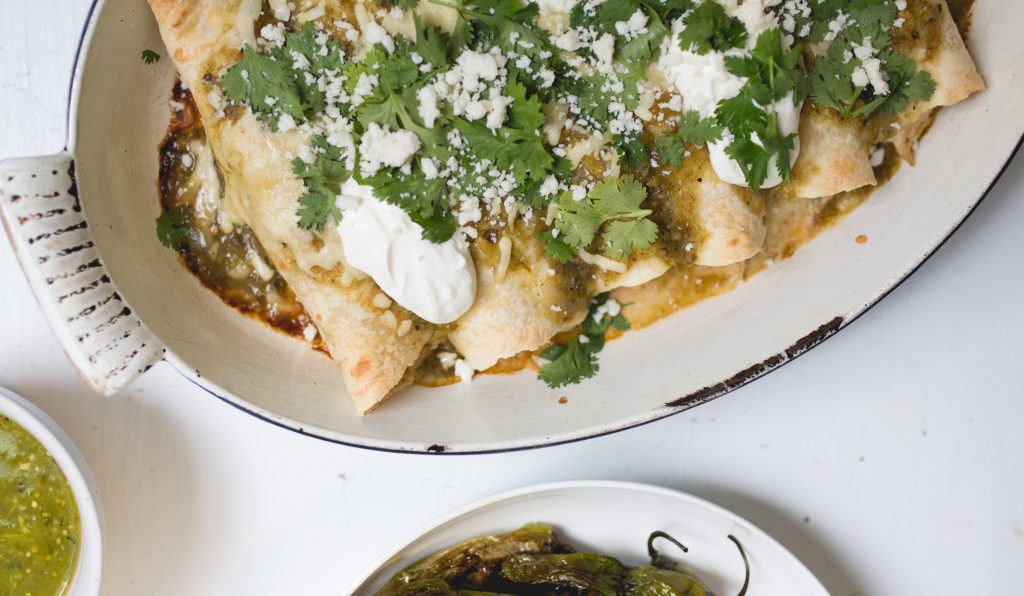 At POUND, we know that our posse is the backbone of our community. We love to sweat together, make noise and change the fitness industry together, but most importantly, we love being able to share a meal together. Here are some of our top 3 favorite recipes perfect to feed any size army! 
G R E E N   E N C H I L A D A S
Ingredients:
1 Tbs Olive Oil

1 garlic cloves, minced
1 Sweet onion, medium, diced
¼ c green onion, chopped
½ tsp ground cumin
8 oz diced green chilies (canned)
4 cups shredded chicken (rotisserie)
2 cup Salsa Verde ( store bought )
2 cups Monterey Jack cheese
Salt and pepper to taste
Tortillas
Sour cream
Cilantro
Cotija (optional)
Directions:
In a medium skillet heat olive oil. Add in chopped onion and saute until translucent. About 2-4 min.  Add in garlic and stir in cumin and green chiles.

In a large bowl combine shredded chicken and saute mixture with 1 cup shredded monterey jack, green onions and  ¼ cup salsa verde . Season with salt and pepper to taste.
To Assemble:
Preheat Oven to 350

In a skillet lightly heat tortillas.  Lay on a flat surface and spoon about a ½ cup of chicken mixture onto the middle of the tortilla, the long way.  Roll tortilla and carefully lay tortillas seam side down into a casserole dish. Repeat until your casserole is full.

Top Tortillas with remaining salsa verde and 1 cup of shredded cheese.

Place in oven and bake for 35-40min until bubbly and browned.

Remove from oven and top with dollops of sour cream, fresh cilantro and cotija.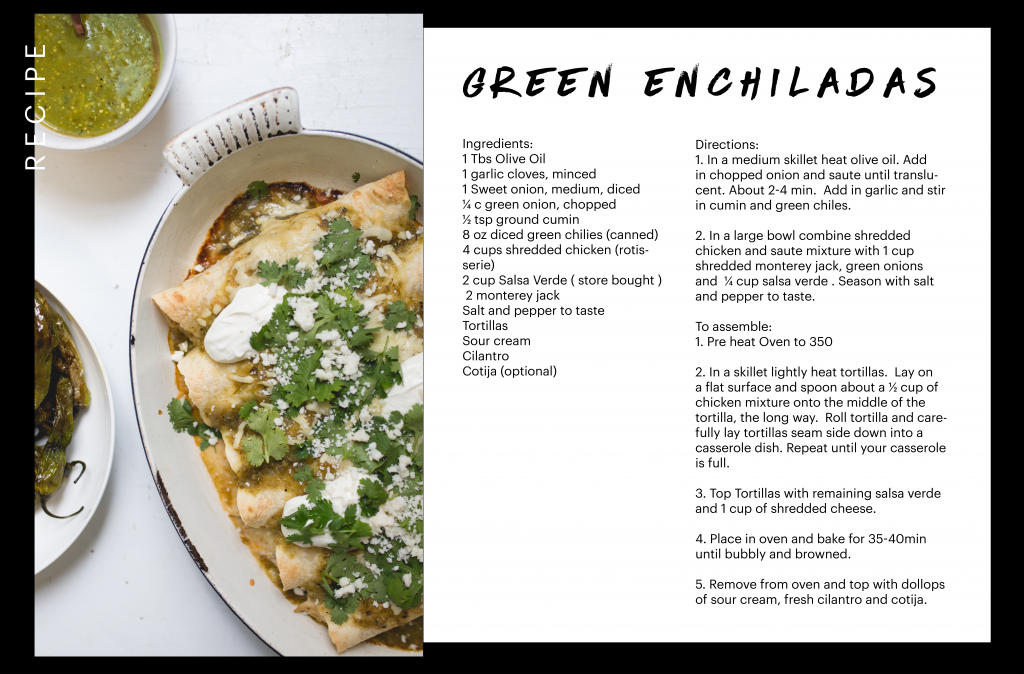 S H R I M P + P I N E A P P L E   R I C E
Ingredients:
3 cup cooked brown rice

3 TBS  oil
1 ½ lb shrimp
1 ½ c Fresh pineapple, cubed
½ cup scallions, chopped
¼ cup cilantro
3 garlic cloves, minced
1 Jalapeno, chopped
1 ½ Tbs Tamari – more?
2  tsp fish sauce
Cilantro
Directions:
Cook Shrimp in a skillet or grill pan with 1 bs Olive oil, 1 clove chopped garlic and salt and pepper to taste

Grill Pineapple in grill pan or skillet.
In a small bowl combine 2 TBS olive oil, Tamari, fish sauce and jalapeno. Set aside
In a large bowl combine brown rice, green onions, grilled shrimp and pineapple.
Toss rice mixture with dressing.
Place in serving bowl and top with cilantro.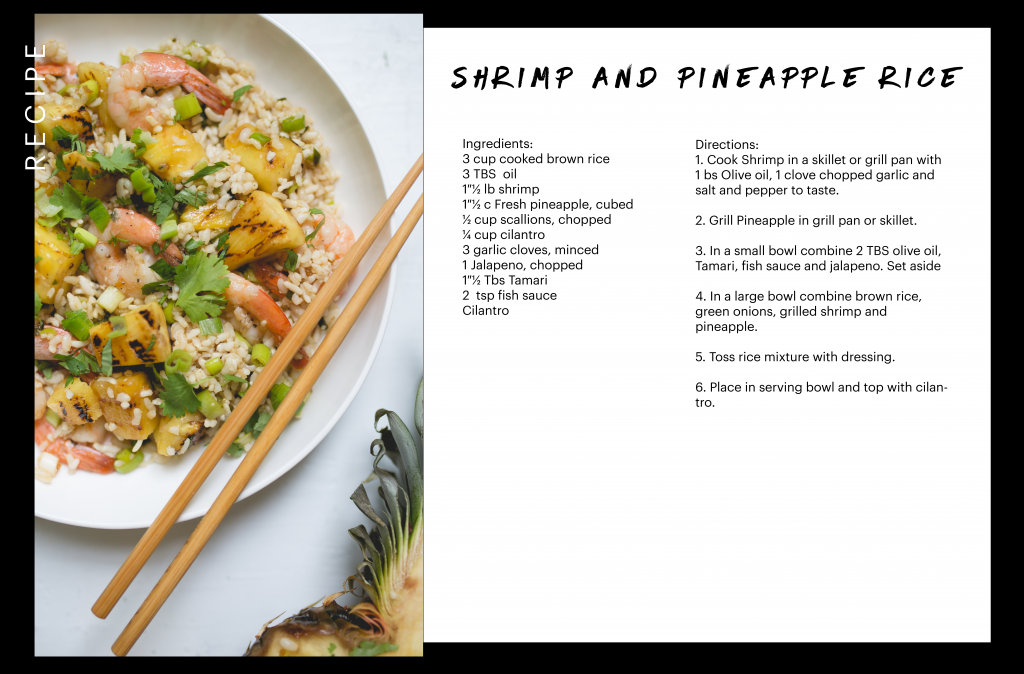 Ingredients:
2 cups cooked farro

Half of a english cucumber, chopped

1 cup snap peas, blanched

¼ c sliced radish

¼ cup chopped mint

¼ chopped dill
Directions:
Mix all ingredients together in a serving bowl

Add 2 TBS Sesame oil to mixture

Add 2 TBS rice wine Vinegar

Add Salt + Pepper to taste