Being in the fitness and wellness industry, we know how vital sleep is for overall health!
Did you know…  
50-70 million US adults have a sleep disorder including snoring and sleep apnea

35% of adults get less than 7 hours of sleep in a typical 24-hour period

More than 80% of people use the weekends to make up for lost sleep during the week.
So instead of wasting your weekends catching up on sleep or just being tired ALL THE TIME, we thought we'd share some sleep aids that helped us here at HQ .
1. Bedtime Yogi Tea
Find it at a store near you!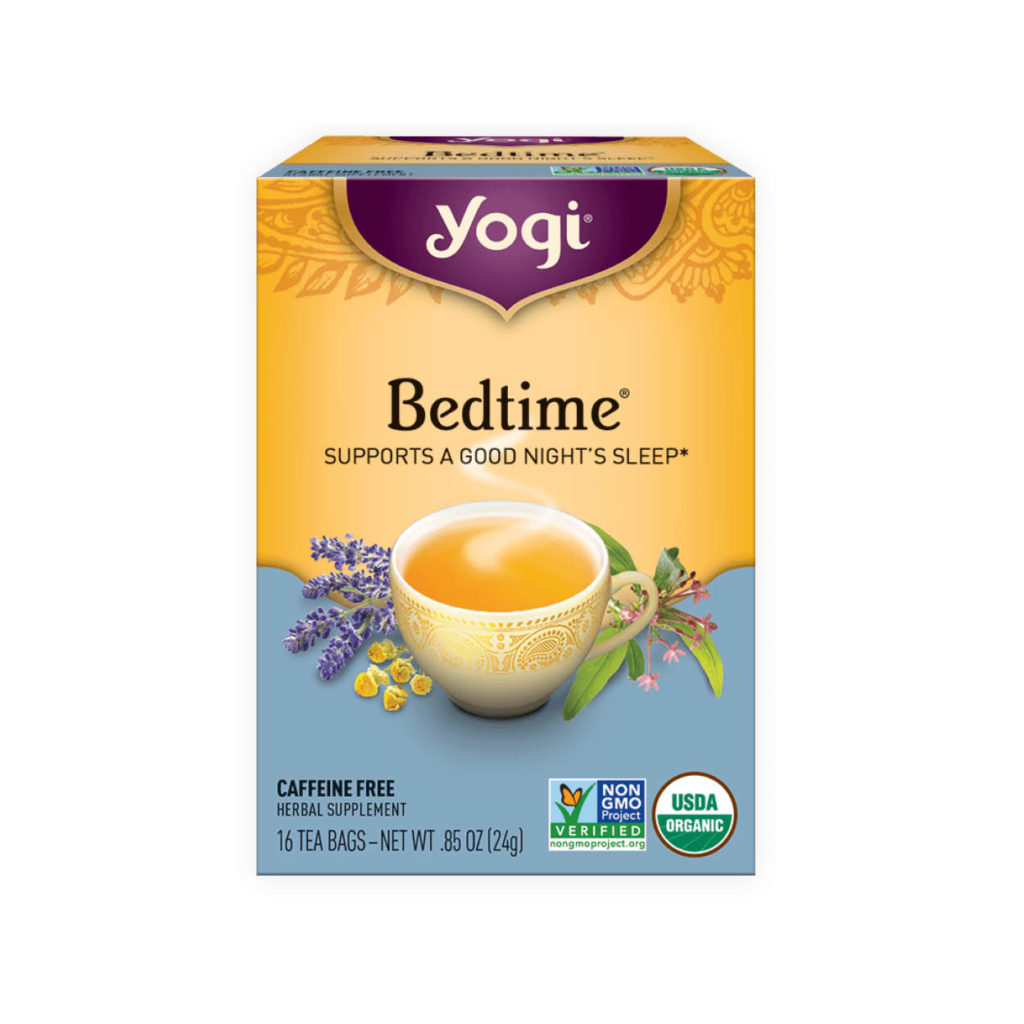 Yogi Bedtime® tea is a comforting and delicious sleep tea blend that combines soothing Passionflower with relaxing Chamomile Flower. Licorice, Cardamom and Cinnamon add delicious warming flavor that's just right for drinking before bedtime. Relax and unwind with a cup of Yogi Bedtime® tea.
Brewing Suggestions: Bring water to boiling and steep 7 minutes. For a stronger tea, use 2 tea bags. Drink before bedtime.
HQ Review: 4/5
"Honestly wasn't expecting this product to work the way it did. I was doing my normal unwinding which consists of binging some random show on netflix while casually scrolling through my phone. It wasn't until maybe around 10PM when I decided to boil up some hot water and get the tea ready. I picked a pretty large mug because I thought I would be chillin for a while, but boy was I wrong. First, the taste wasn't too bad. It was actually quite nice. I was maybe halfway through the cup and I started to feel it. The feeling you get when you're drunk and really sleepy. It was actually really cool knowing that feeling came from the tea though. Like, there was no way I could've gotten sleepy so fast if it weren't for the tea. I slept like a baby! I also really appreciate the little notes of wisdom on the tea bag. So awesome!  " -Ian
"This tea was super yummy – super yummy and did make me go to sleepy very quickly just as Ian said. Overall, I'm not HUGE tea drinker – so this was a different experience for me. I feel asleep very soundly and quickly but, I did wake up in the middle of the night a couple of times during our trial period. This is not unusual for me – so I would say overall is definitely worth a try! " -Sandy
"First things first, this tea tastes wonderful. Soothing and smooth, it is perfect before bed in my opinion. I usually fall asleep fairly quickly, and after drinking this tea, it was no different. I slept soundly for several hours each night before waking. If nothing else, for the ritual and training your brain to recognize that sleep is coming up next, I think this tea is definitely worth a try!" -Shannon
"First off, I'm an insomniac. I have tried everything you can imagine – different teas, CBD oils, melatonin, you name it, I've probably tried it. So I was skeptical to try this but open to the idea since I am so desperate for sleep. Literally my thought was "give me anything that WILL work!" I drank the whole cup of tea before bed, read and literally within 5 minutes I passed out and I stayed asleep all night. This NEVER happens! I woke up feeling refreshed and in disbelief that I actually slept. 100% recommend to everyone that is struggling to get those 8 hours in! " -Lizzy

2. Big Red Rooster Sound Machine
$16.99, Find it on Amazon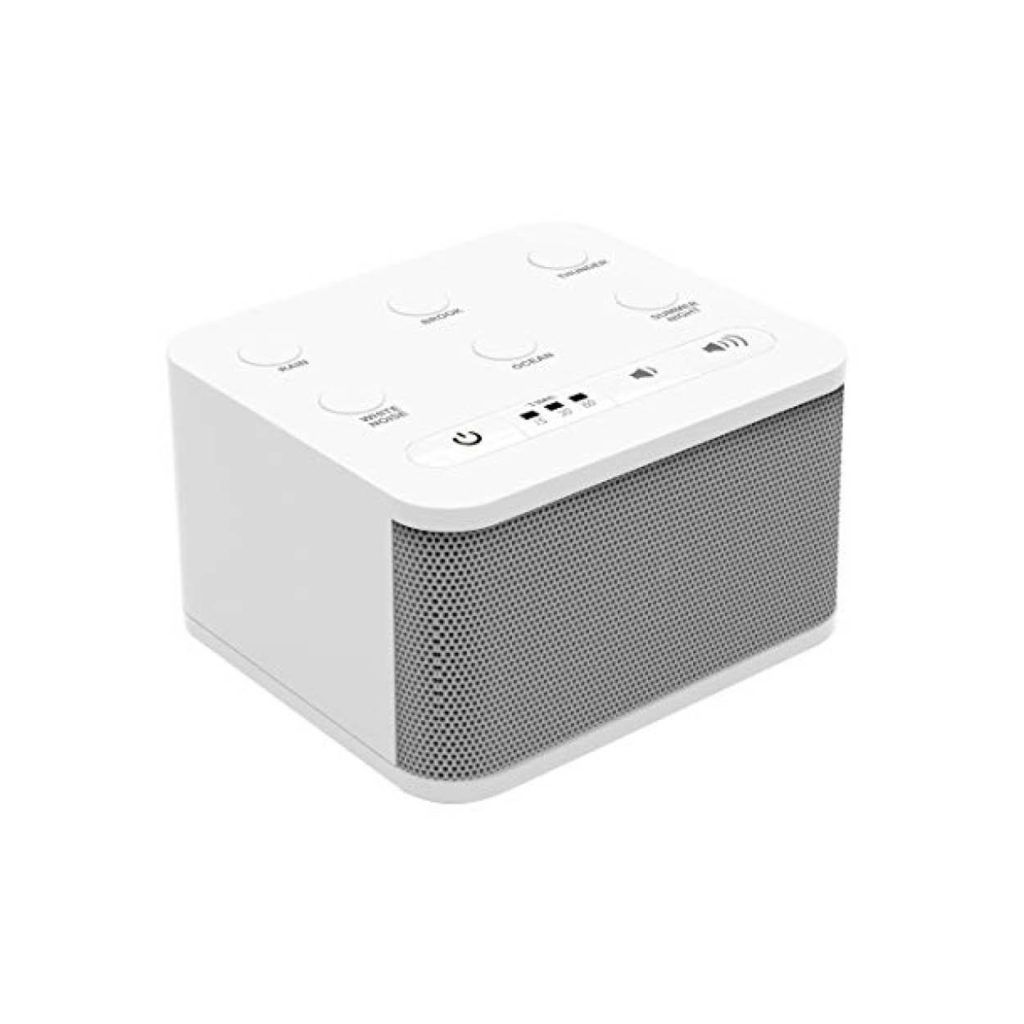 Fall asleep easier, sleep better and wake-up refreshed with six natural sounds including rain, white noise, brook, ocean, summer night and thunder. Includes an optional sleep timer with 15, 30 & 60 minute intervals. Can be powered by an AC Adapter or 3 AA batteries – great for travel!
HQ Review: 4.5/5
"We live in a pretty noisy apartment complex with a noisy neighboring apartment complexes next door – I was skeptical to start because I can pretty much fall asleep once I stop moving, but both my husband and I really got into this little sleep machine! I recommend turning the volume all the way down (it's pretty loud) and utilizing the sleep timer so you don't wake up thinking you're in the middle of the ocean. With a full week of use by the end of the week it felt like once I turned that bad boy on my eyes got heavy! My favorite setting is "Thunder" and my husband's is "Ocean" – white noise is a little much for me! Also it's small and the box says it would be good for travel and I believe it! Excited to try it on a trip!" -Chelsea
"I don't often need help falling asleep–I'm the sort of person who can pass out within minutes of my head hitting the pillow. That being said, I don't like silence, so I enjoyed having the sound machine going as a way to fill the void. It did help calm my thoughts. I'm giving it a 4 out of 5 because my boyfriend didn't have as great of an experience. He's more of an insomniac so he was eager to give this a shot. We listened to "Thunder" and he found that he could tell when the sounds were repeating/looping back around, and it turned out to be a distraction that ended up keeping him awake. So if that's a concern for you, I'd suggest picking a track like "White Noise" so it's harder to tell when the track loops." -Kirstie
3. This Works Deep Sleep Pillow Spray
$29, thisworks.com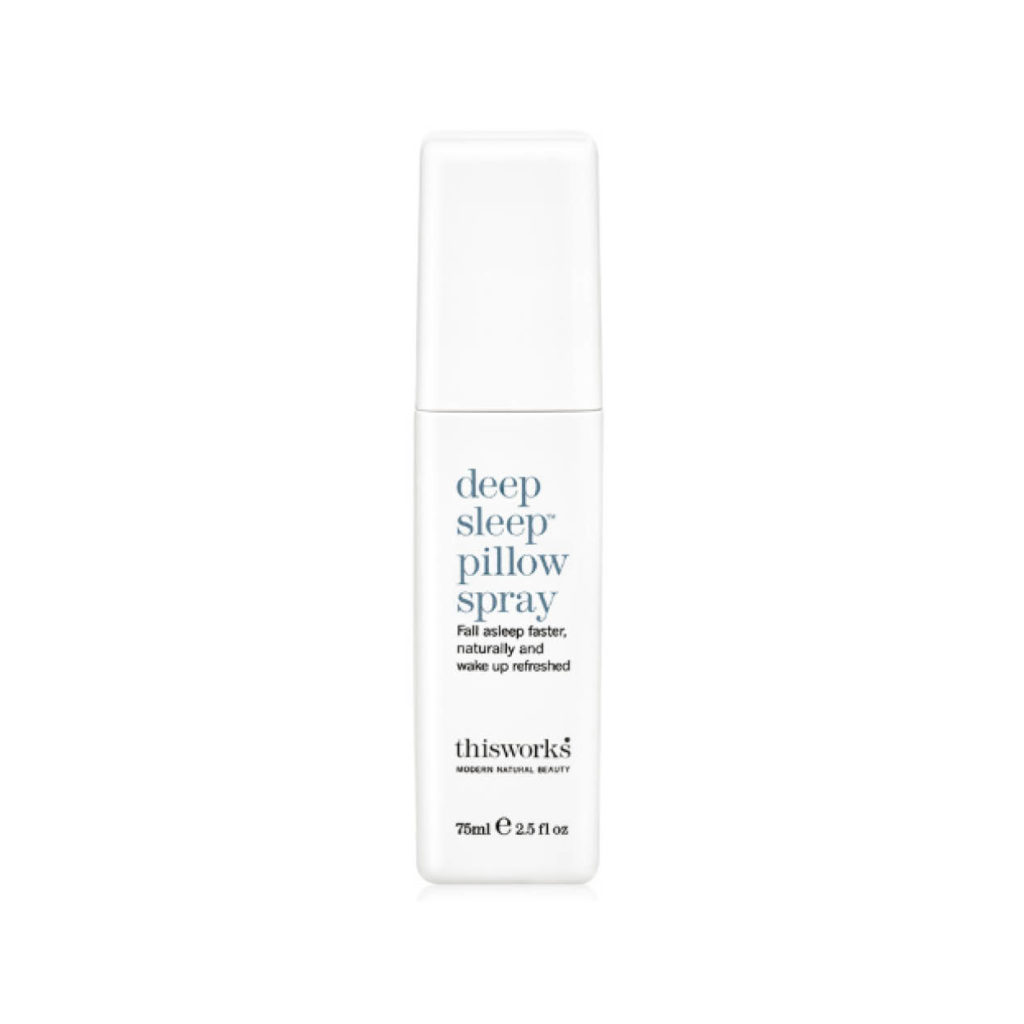 Get a great night's sleep with our best-selling deep sleep pillow spray. Proven to help you fall asleep faster and wake feeling more refreshed.
Spray a fine mist over your pillow at bedtime to help reduce sleep anxiety and improve sleep quality. Includes aromatherapeutic Superblend of Lavender, Vetivert and Camomile calm both mind and body, soothing you to sleep.
Suitable during pregnancy.
HQ Review: 4/5
"I'm an insomniac by nature, so I've tried it all! While I've used essential oil diffusers in the past, I was excited to give this spray a try after hearing great things about it from a few other HQ members. It definitely smells lovely, but I'm not convinced that it worked any differently than my other diffusers and oils have. There is something soothing about the smell that helps quiet your mind and relax your energy for sure, so I'll continue to give it a try. For the week I used it, I only had two days of insomnia out of seven… which is a definite improvement for me! 4 out of 5 stars because you have to spray kind of a lot to cover all of your pillows and the bottle isn't all that big. " -Nicole
"In the past, I have diffused essential oils and have loved the benefits. What I liked about this spray is that it allows me to bring that same experience to my bed while traveling and when diffusing is not an option. Not only that, but I love that it's cruelty free and free of many toxic additives. I do believe that the benefits will start to sit heavier after a week or so. The price point is a little high for my liking, but I would happily add this to my travel kit and use it as a substitute for when I am traveling." -Ana