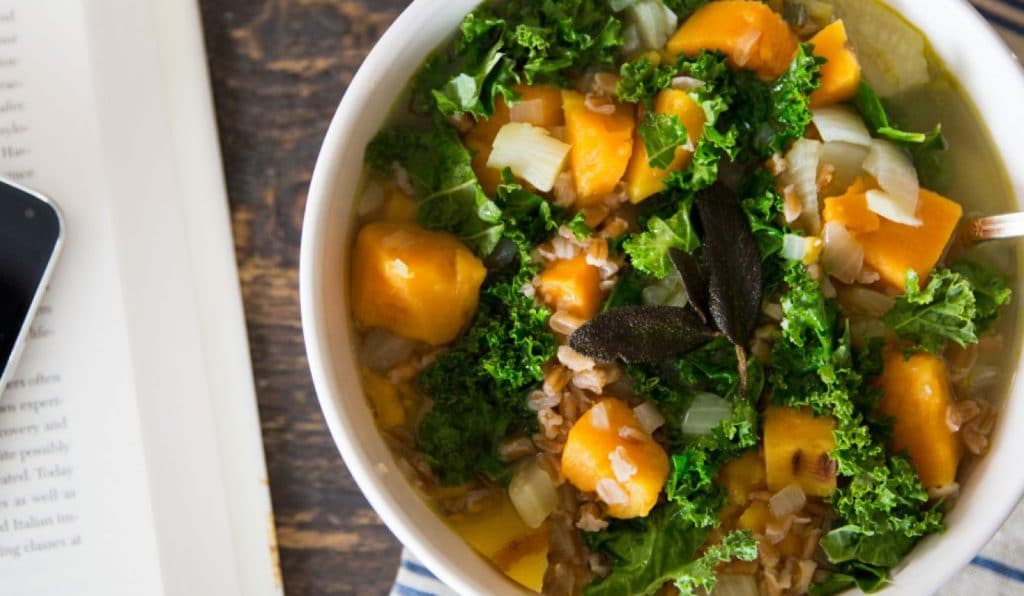 By now, you're fully immersed into your fall routine, and we've seen you fully embracing ROCKtober! You're fitting in that one extra class at the gym per week, waking up just a smidgen earlier to take some extra time for yourself in the morning, and you're hyper-focused and killing it at work. So, to accompany your kickass, productive schedule, here's the easiest and fastest dinner (or lunch) recipe that'll keep you on track in the food department.
Sweet Potato and Fennel Soup Recipe
2 T extra virgin olive oil
2 garlic cloves, minced
1 white onion, chopped
1 medium fennel bulb, chopped
2 sage leave, chopped or 1 T thyme, de-stemmed
2 small sweet potatoes, peeled and diced
1/2 C uncooked farro, rinsed
4 1/2 C vegetable broth
1/2 t sea salt
Large pinch of cayenne — add more if you like it spicy!
Juice of 1/2 lemon
3 C Kale, Massaged
Shaved parmesan cheese
1/2 C turkey sausage, cooked and chopped (optional)
Directions
Heat EVOO in a large soup pan over medium heat. Add garlic, onion and fennel. Reduce heat and cook for about 10 minutes, stirring (or until translucent).
Add sweet potatoes, farro, vegetable broth, sea salt and cayenne. Bring to a boil and then reduce heat to a simmer.
Add lemon juice and thyme, then cover the pan and simmer for 20-25 minutes.
Once finished, taste and add salt and pepper if needed.
OPTIONAL: After 20 minutes add cooked turkey sausage to soup.
Serve in a soup bowl. Add in a small handful of kale. Mix and garnish with a small sprinkle of parmesan.