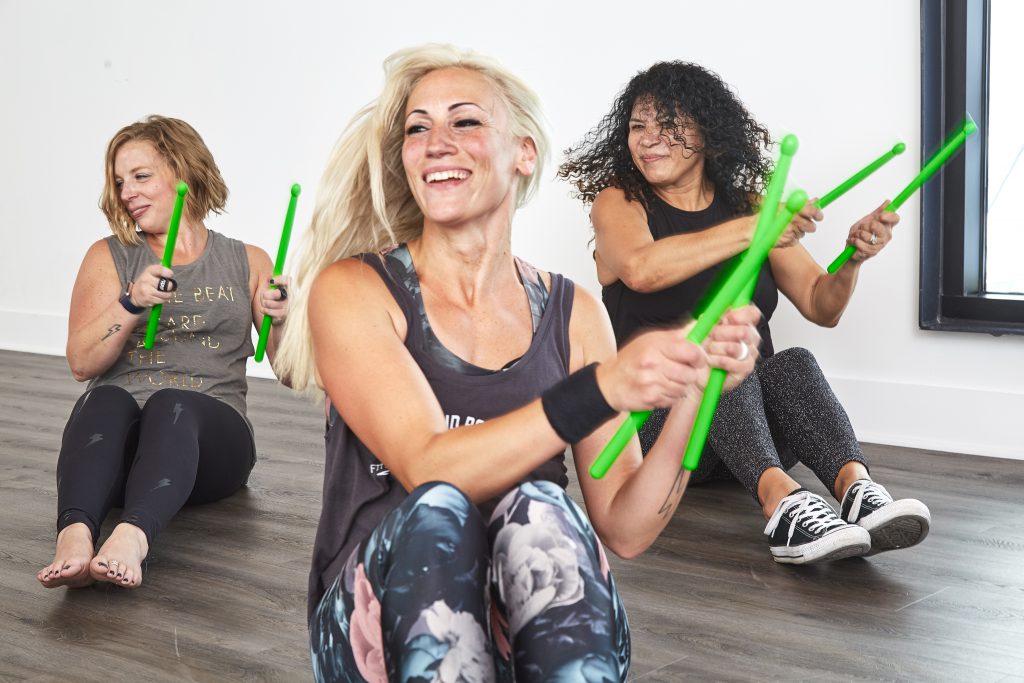 Amy Ward is not only one of our badass ICONs but she also works at POUND HQ as the Pro Success Manager, dedicating her time to building relationships with Pros and helping them take their career and skills to the next level. Amy's heart beats for not only POUND, but for the people it has brought to her. Check out her thoughts below on building and cultivating these relationships through POUND. 
POUND gives us a platform to not just make noise but also feel uncomfortable, uncoordinated, and imperfect and because of this over time we grow and change our relationship with ourselves. When this happens we then can build relationships within our community. We change the way we react to situations, connect with others, engage, share, and continue to grow.
I have seen this in our community with the friendships and relationships that have blossomed from simply taking a class. Building confidence first and then feeling a part of a group has led to supporting each other in any aspect of life. This support has led to friend gatherings, play dates, and even reigniting long lost friendships.
Having the initial professional relationship with my posse is a key factor to transitioning that relationship into a connection. We all start off having the instructor/participant relationship. During this time they know they can rely on me every class, count on me for guidance of the workout, meet them where they are, and deliver the energy and the noise. They know I show up for them professionally so they will show up for me. It's a two way street.
It's also important because this relationship gives freedom. Freedom to feel confident, to try something new, to get out of a comfort zone, to unleash and be someone they didn't know they could be.
Building a connection happens after we create that initial professional relationship. This means starting to know our participants' names, engaging with them through our cues and facial expressions, motivating them through our actions, creating the space for them to explore new movements, rhythms, emotions, and gaining trust and rapport.
So a few things I love to do…
Arrive to class early //

Most of the time if there is someone new, they will also arrive early. This gives me time to ask their name, maybe even why they are there (a friend, trying something new, etc.), and reassure them if they are nervous. This is the beginning of our relationship and gives me the opportunity to create that initial connection.

Personally say goodbye //

At the end of the class I will then stand by the door to say goodbye to my entire posse but especially for my new participants, the ones that I just began a relationship with, see how they feel. It is just another opportunity to give reassurance and build trust.

By doing this, it sets the tone of the class, and gives opportunity for those regulars to start and build relationships with anyone new as well. I've seen my posse hand out ripstix to those just starting off, make sure they are all set, and also reassure. Inspiring others to inspire others.

Ripstix High-Fives

// Another opportunity for new relationships to begin and continue that I love doing is at the end of the cool down have the entire posse give ripstix high fives to their neighbors. Just another way to build relationships, showing how much we support and value each other.

 
SMILE

// And what may seem small, I smile. Before, during, and after class, smiling. It's free. A smile opens that door and creates opportunities to show compassion, kindness, and in POUND give someone the freedom to unleash their inner rockstar.
And outside of class: 
Social gatherings

(I love meeting for breakfast after a Saturday morning class or a play date with a fellow parent/posse) or even something simple as meeting a member before or after class to go over any questions or concerns they may have. Attending or volunteering at community events when I can to continue cultivating a relationship that may have started during class.

Social Media

I also use technology as leverage to help nurture relationships within my community through social media. Liking a post, commenting, sharing POUND information or events, and being there online. Having a positive, genuine, and encouraging online presence goes a long way in building trust, rapport, and connection. I also love celebrating birthday's or milestones in my Instagram stories. Taking the time to acknowledge someone is key to building lasting and meaningful connections and let them know that we band together.
Special Events

I love inviting members to any events POUND or our community maybe holding outside of a live class, like the tour to summer or 12 days of POUND, creating another way to maintain our relationship.

Pro Meet-ups

For Pros, meet-ups and practice sessions are a great way to nurture our relationship, continually motivating and supporting each other, and solidifying we are a team.
THE IMPACT
Seeing our enormous world with different cultures, time zones, languages, all come together and connect through POUND, embracing each other, sharing lives and classes/events together (online, face-time, or in person), while supporting each other, cheering each other on, and embracing one another has been so powerful. It makes our enormous world not feel so enormous. I've seen POUND communities rally together to send someone to a training because they are a single mom, I've seen confidence build so much in a Pro that they decided to leave the corporate world to pursue their passion in helping others and making an impact, I've seen Pros travel across the country and world just to support a POUND event and charity. 
One of the most impactful relationships I have gained personally through POUND is my best friend Momo Foster. Momo and I actually met online the beginning of 2016 and continued our relationship through the Highway to Well Tour (tour to summer 2016). We started talking weekly, daily, face timing, and finally meeting in person during ICON camp (summer 2016) only six months later. We've become the best of friends; our children have met each other, and are already planning our next trip together. I couldn't imagine my life without her…all because of POUND.
POUND continues to build and nurture relationships within our entire global community because it isn't just about the workout. POUND opens the door to be you, the real you, the raw you…the one that can show emotion yet feel secure and confident, the one that can be both gentle yet strong, the one that can be both powerful yet humble. I'm grateful for POUND in so many ways, it has changed my life, and it has built so many relationships and friendships I could not live without. 
I have seen it help our community with the friendships and relationships that have blossomed from simply taking a class, the support that is given to each other in any aspect of life, and wanting to continue to empower each other.
POUND and community are synonymous. Building those relationships in class equals building relationships in our community.